Trump's foreign trip: The most bizarre moments so far (VIDEOS)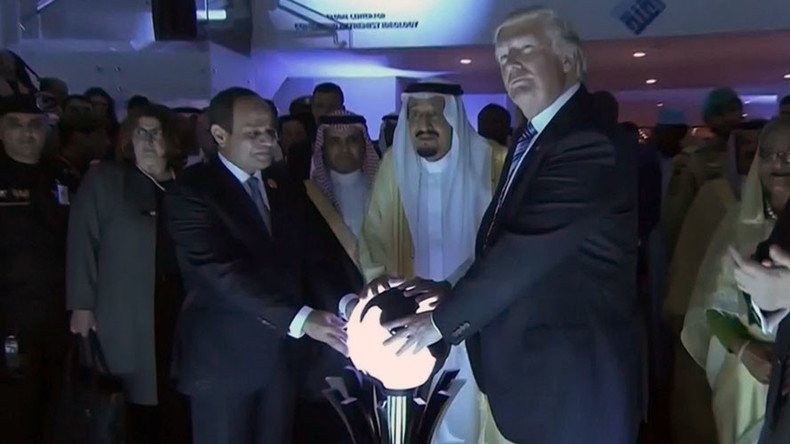 Commentators are eager to see how Donald Trump handles his first foreign trip as US President – and judging by the number of memes emerging online, they have not been disappointed. Here's a rundown of Trump's most bizarre moments so far.
Saber salsa: Trump goes sword-dancing
President Trump kicked off his foreign tour with the signing of a $350 billion arms deal with Saudi Arabia. If we wanted to know how such deals are celebrated, footage of Trump and Secretary of State Rex Tillerson taking part in a traditional Saudi sword dance gave us some idea.
READ MORE: When in Riyadh: Trump & Tillerson awkwardly join in Saudi sword dance (VIDEOS)
One suspects that Trump would prefer strolling the fairways of his Mar-a-Lago golf course than joining a chorus line of blade-wielding dancers...

Meanwhile, Trump aide Steve Bannon, purportedly one of the main drivers behind the president's proposed 'Muslim ban', was also pictured looking a little uncomfortable at the event.
Three men and a little orb
In a scene some say is reminiscent of cartoon villainy, the former property tycoon was pictured around a glowing orb with Saudi King Salman and Egyptian President Abdel Fattah al-Sisi.

The three men were attending the official opening of Saudi Arabia's Global Center for Combating Extremist Ideology, a new organization dedicated to monitoring propaganda from extremist groups. According to the local press, placing their hands on the orb, an act akin to a ribbon cutting, "officially activated" the center.
READ MORE: Is Trump's glowing orb a 'witchcraft' conspiracy? (VIDEO, PHOTOS)
Online commentators suggested the image was actually a sign of Shakespearean witchcraft and wizardry, with some joking that Trump was harnessing dark powers from a supernatural world.
The Church of Satan, an international organization established in 1966, was keen to note that the act was not a "satanic ritual."
Sleepy Wilbur has a nap
US Secretary of Commerce Wilbur Ross was caught snoozing during Trump's speech on "the crisis of Islamic extremism" in the Saudi capital of Riyadh.
The billionaire investor-turned-politician was apparently less than impressed with Trump's 36-minute speech to leaders at the Arab-Islamic-American Summit.
'Boy, those shoes': The President compliments Sisi's footwear
Abdel Fattah al-Sisi wasn't prepared for Trump's reaction to his attempted love-bombing during their meeting in Riyadh.
The Egyptian head of state complimented the US President on his "unique personality that is capable of doing the impossible."
Not to be outdone, and uninhibited by his seemingly little knowledge of al-Sisi, Trump returned the compliment.
"Love your shoes," Trump said, as reporters were being taken from the room. "Boy, those shoes. Man ..."
If you're curious about why Trump complimented al-Sisi on his shoes today, here's the bilat footwear. (Al-Sisi left, Trump right.) pic.twitter.com/wycrPYrsUR

— David Martosko (@dmartosko) May 21, 2017
Ivanka & Melania praise Saudi 'empowerment of women'
After meeting a group of female leaders in Riyadh, Trump's wife Melania and daughter Ivanka praised the patriarchal state for its "empowerment of women" and "encouraging progress" in women's rights.

Critics thought this was curious praise for a country in which women cannot legally drive or are allowed travel without the consent of a male guardian.
Sure, Ivanka. Nothing says "empowerment" and "progress" like preventing women from even leaving their houses without a male "guardian"! https://t.co/HZNtoMe6V5

— Sarah Abdallah (@sahouraxo) May 21, 2017
Are there no women in there besides Ivanka and Melania? Why didn't they just drive there? Oh wait...

— Dave Rubin (@RubinReport) May 21, 2017
Melania lecturing Saudi Arabian women about freedom is like Charlie Sheen promoting abstinence-only sex ed.

— Brianna Wu (@Spacekatgal) May 21, 2017
Melania slaps away her husband's hand
Melania Trump seemed unimpressed by her husband's attempts to take her hand after the pair exited Air Force One at Tel Aviv's Ben Gurion Airport.
Met by Israeli Prime Minister Benjamin Netanyahu and his wife Sara, the Trumps walked the red carpet alongside their hand-holding counterparts. When Trump tried to mirror the pose, Melania was quick to deter him.
You can share this story on social media: