Trump's Saudi speech puts commerce secretary to sleep (VIDEO)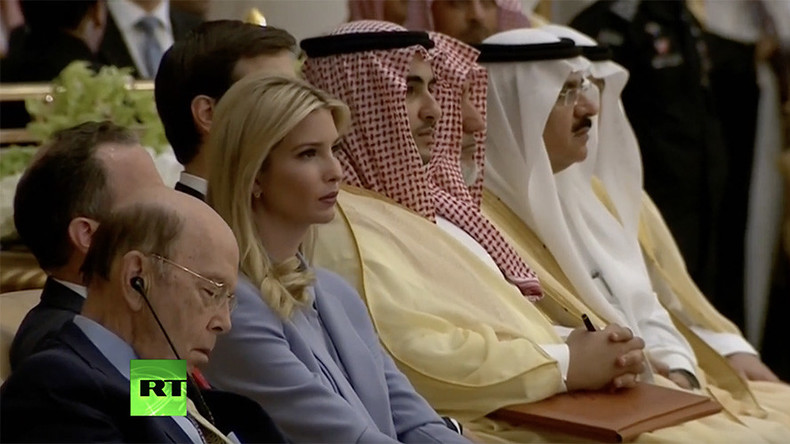 US Secretary of Commerce Wilbur Ross was caught snoozing during President Donald Trump's speech on the "crisis of Islamic extremism" in Riyadh during his first state visit overseas.
The billionaire investor-turned-politician was apparently less than impressed with Trump's 36-minute speech to leaders at the Arab-Islamic-American Summit on Sunday.
Many viewers noticed the 79-year-old catching some shut-eye while wearing a translating earpiece for the speech – despite it being delivered in English. At least the president's daughter Ivanka appeared to be listening intently.
READ MORE: When in Riyadh: Trump & Tillerson awkwardly join in Saudi sword dance (VIDEOS)
When he's not literally sleeping on the job, Ross is ruffling political feathers by remarking on the "fascinating" fact that there was "not a single hint of a protest" in Saudi Arabia during Trump's two-day visit. This ignored the small detail that the kingdom is an absolute monarchy with no elections or political parties and that protesting is illegal.
Ross made the controversial comments during a Monday morning appearance on CNBC, telling anchor Becky Quick "there was not a single hint of a protester anywhere there during the whole time we were there."
READ MORE: Melania & Ivanka Trump mocked for praising Saudi Arabia on women's rights
When reminded by Quick that a lack of protesters may be because of Saudi Arabia's strict laws against it, Ross conceded that "in theory that could be true, but boy there was certainly no sign of a single effort."
You can share this story on social media: