'Encouraging': Ivanka & Melania Trump praise Saudi Arabia's progress on women's rights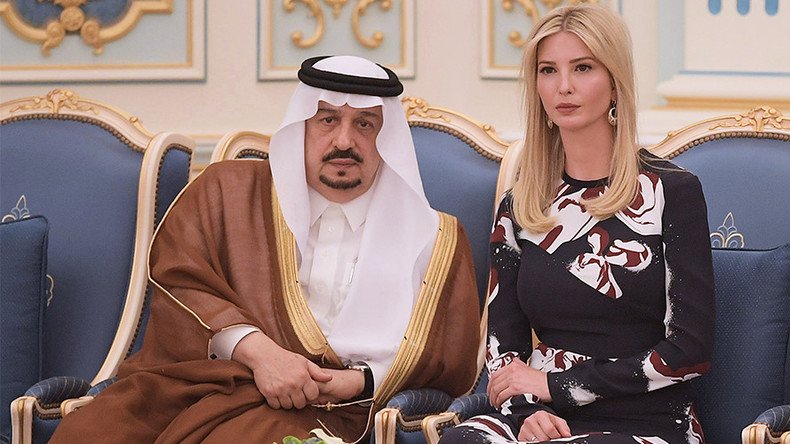 First Lady Melania Trump and the US president's daughter and adviser Ivanka Trump have praised Saudi Arabia for its "encouraging" progress with regards to women's rights.
Accompanying her father on his presidential trip to the Middle East, Ivanka met with a group of Saudi female leaders in Riyadh Sunday to discuss how women might gain further freedoms in the patriarchal state.
READ MORE: Trump visits Saudi Arabia in first official foreign trip amid Yemen & human rights controversies
"In every country, including the United States, women and girls face challenges," Trump's eldest daughter told the group during a roundtable discussion led by Deputy President of the Women's Sports Authority Princess Reema bint Bander, according to AFP.
"Saudi Arabia's progress, especially in recent years, is very encouraging. But there's still a lot of work to be done and freedoms and opportunities to continue to fight for."
"Around the world women continue to achieve unprecedented levels of rights and freedoms. Today you all stand on the frontlines of the fight for gender equality," she added.
Also on Sunday, Melania Trump hailed Saudi Arabia's "empowerment of women" while speaking at a General Electric all-female service center.
Saudi Arabia is the only country in the world where women are not legally allowed to drive. Women must also cover themselves from head to toe in public, though the face doesn't have to be covered, and need permission from their male guardian to leave their home.
However, earlier this month King Salman issued a decree that women no longer need a male guardian's permission to receive state services "unless there is a legal basis for this request in accordance with the provisions of the Islamic Shariah."
READ MORE: Saudi women to get state services without male guardian's permission
While still ranked 141 out of 144 in the 2016 Global Gender Gap, the country has made numerous improvements for Saudi women's rights in recent years.
In 2011 women were allowed onto the government's advisory Shura Council. They were also given the right to vote in municipal elections as well as work in some retail and hospitality jobs. The following year, Saudi women were allowed to compete in the Olympic Games for the first time.
You can share this story on social media: