Saudi women to get state services without male guardian's permission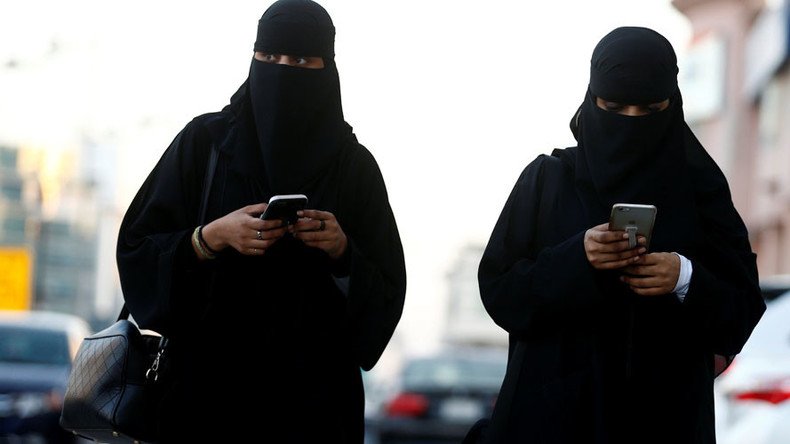 Saudi women will no longer need a male guardian's consent to receive state services. The new decree comes after Riyadh, which has been slammed for a poor women's rights record and gender inequality, was appointed to the UN Commission on the Status of Women.
The decree states that women are no longer required to have a male guardian's permission to request services "unless there is a legal basis for this request in accordance with the provisions of the Islamic Shariah." It was issued by King Salman, local media reported Thursday.
"This came in a royal directive to all concerned government agencies, after approval of proposals raised by the General Secretariat of the Council of Ministers to resolve issues related to human rights," the royal decree stated.
The former procedure obliged Saudi women applying for various government services to provide written consent from their guardians for their applications to be processed. The guardian can be a husband, father, brother, or son.
The system often created problems for women without male relatives who could act as guardians.
Local media reported that Saudi Supreme Court demanded agencies to review procedures that require the approval of the woman's guardian to complete a service and called to lift male guardianship within three months.
Human Rights Commission President Bandar bin Mohammed Al-Aiban said he welcomed the move, adding that it reflects King Salman's concerns to simplify procedures for women, who make up half of the Saudi population and who the monarch sees as a major partner in the development of society, as cited by Arab news.
Many human rights defenders praised the decree, saying that male guardianship was an obstacle for women to access services.
Women in Saudi Arabia need a guardian's approval for the vast number of their everyday activities – from receiving education or accepting a job, to opening a bank account or receiving medical treatment.
"This (male guardianship) has always been an obstacle to women and demeaning because unfortunately some guardians abused their authority over women and took advantage," Maha Akeel, director of public information and communication for the Jeddah-based Organization of Islamic Cooperation (OIC), told Arab News.
According to Akeel, the decree recognizes the right of a woman "to be her own guardian and take care of her official matters… without the need for the approval of the guardian."
"Now at least it opens the door for discussion on the guardian system," Akeel told Reuters. "Women are independent and can take care of themselves."
The government, however, did not release an exact list of services which woman can apply for without the permission of a guardian. Suhaila Zain Al-Abideen, senior member at the Saudi-based National Society for Human Rights, suggested to Arab News that such services might include women representing themselves in court, traveling abroad or renewing a passport.
However, not all human rights defenders praised the decree. According to Saudi writer and women's rights advocate Abdullah Al-Alami, Riyadh introduced the measure merely to "satisfy the Human Rights Commission, in relation to the international conventions to which the Kingdom has acceded."
Saudi Arabia made headlines in April after Riyadh was appointed to the UN Commission on the Status of Women (CSW) by the UN's Economic and Social Council (ECOSOC).
UN Watch, a human rights organization monitoring the performance of the UN, strongly condemned the move, calling the decision "absolutely absurd."
READ MORE: 7 states abstained from voting Saudi Arabia into UN women's rights commission
"Electing Saudi Arabia to protect women's rights is like making an arsonist into the town fire chief. It's absurd," UN Watch chief Hillel Neuer told RT. "Saudi Arabia has one of the world's worst records on women's rights."
Saudi Arabia embarked on a policy aimed at giving women more rights in 2011 when women were allowed onto the government advisory Shura Council. Women were also given the right to vote in municipal elections as well as to work in some retail and hospitality jobs.
In addition, Saudi women were allowed to compete in the Olympic Games for the first time in 2012. However, Saudi Arabia was still ranked 141 out of 144 in the 2016 Global Gender Gap, a World Economic Forum study dealing with women's access to health and education as well as their economic and political participation.
You can share this story on social media: