'Spirit of people will grow stronger': James Corden delivers emotional Manchester message (VIDEO)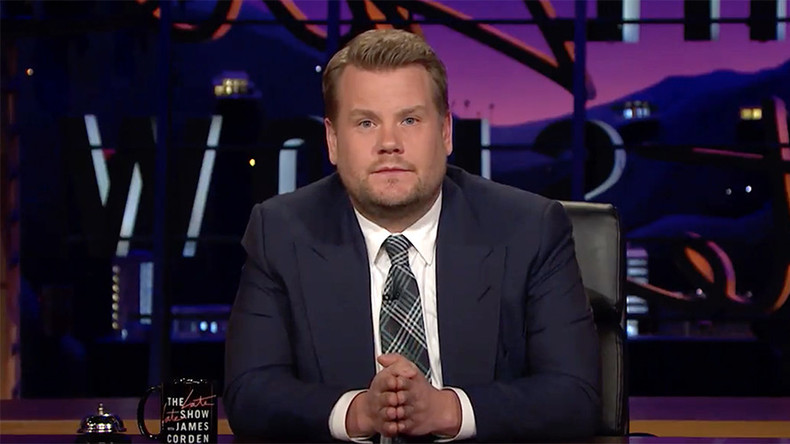 James Corden gave an emotional tribute to the people of Manchester as news broke about the suicide bombing that killed 22 people at an Ariana Grande concert.
READ MORE: Suicide bomber behind Manchester Arena attack that killed 22 people
Manchester police say that the perpetrator acted alone in Monday's suspected terror attack that left children among the dead and injured 59 people.
As the devastating news sunk in across the globe, Corden presented an additional introduction to his pre-recorded popular US TV show, The Late Late Show.
The British comedian told his American audience about his shock at hearing of the attack, while praising the "wonderful city" of Manchester.
"It shocks me every time we hear this sort of news, that attacks like this can happen, but especially when there will be so many children at this concert tonight," he says.
"Many of you won't have ever been to Manchester, but you'll definitely have heard of it.
"It's famous all over the world for so many wonderful things," he said, before listing the city's famous football teams, Manchester United and Manchester City, and rock bands, Oasis and Joy Division.
He also noted Manchester's significance as the birthplace of the leader of the suffragettes and the home of the inventor of the first computer. "It's a place full of comedy and curries and character," Corden tells viewers.
"But when I think of Manchester, the place that I know, I think of the spirit of the people there. And I'm telling you, a more tight-knit group of people you will be hard-pressed to find.
"Strong, proud, caring people with community at its core," he said.
READ MORE: Moment of deadly Manchester Arena blast caught on dashcam (VIDEO)
The TV host was adamant that the spirit of the people of Manchester will grow even stronger in the aftermath of the horrific attack, while saying that they will remain in his thoughts and prayers.
"We'll all go to bed holding our little ones even tighter this evening," he concluded.
His passion was met with praise and pride online. Some 746,243 viewed his tribute on YouTube while it earned almost 9,000 retweets.