130 Rio Olympic gold medals returned due to 'rust' and 'black' blemishes
Published time: 20 May, 2017 11:08
Edited time: 22 May, 2017 11:06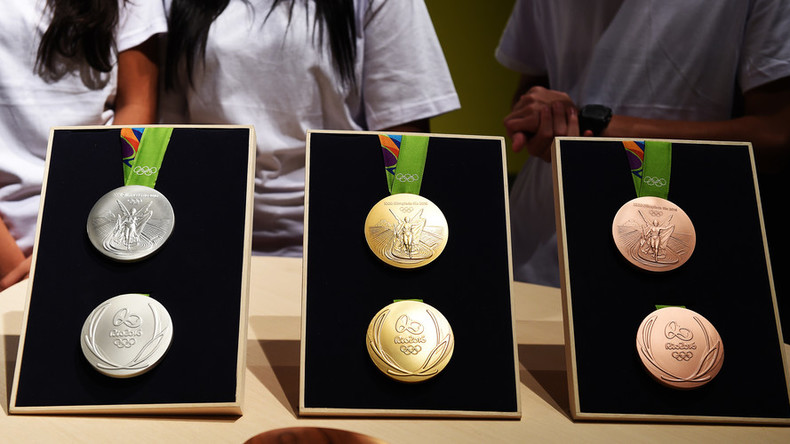 Gold medals awarded to athletes at the Rio Olympic Games have been sent back to their makers due to the metal badges of honor developing rust and seemingly unsightly blemishes.
Less than one year after Brazil's sporting extravaganza took place, it appears that Rio de Janeiro's deserted athletic facilities are not the only pieces of Olympic masterwork that have suffered a hangover from the Games.
Around 130 gold medals have been returned to their makers, the Brazilian Mint, due to problems with rust and black spots, Reuters reports.
However, the thought of decaying medals is reminiscent of stories regarding Rio's once glitzy sports facilities, some of which were photographed earlier this year in a deteriorated state just six months after the closing ceremony.
"The most common issue is that [the medals] were dropped or mishandled and the varnish has come off and they've rusted or gone black in the spot where they were damaged," Rio Olympic Games communications director, Mario Andrada, told Reuters.
"The second thing is that a small few, about 10, had problems with the extreme cold."
An International Olympic Committee spokesperson told RT.com that they are aware "medals won at the Olympic Games Rio 2016 have experienced some defects."
"We understand how important these medals are for the athletes. This is why the IOC is working with Rio 2016 and its suppliers to ensure that any affected medals are repaired and replaced as quickly as possible."
Following her victory at the London Olympic Games, British athlete Jessica Ennis revealed in a BBC interview that winners were given printed guidelines on how to protect and take care of their medals.
According to Ennis' gold medal leaflet, athletes are advised to "avoid any sort of [medal] impact or abrasion" and "always try to carry it in its box."
It adds: "Only clean it using a soft, dry cloth… do not use any liquids, chemicals or abrasive substances when cleaning it."
READ MORE: Russia finishes 4th in Olympics medal table despite track & field ban
For Rio 2016, the famous image of Nike, the ancient Greek goddess of victory, was etched into 500g medals made from 30 percent recycled materials.
Last year's gold medals were described as "purer than ever" and were designed to meet "strict" environmental laws.
"They make use of recycled raw silver at 92.5 per cent purity, coming from leftover mirrors, waste solders and X-ray plates," the Games' website explains.
A total of 812 gold, 812 silver, and 864 bronze medals were created for Rio Olympic athletes.
RT.com has contacted the Brazilian Mint for comment.