Deserted Rio 2016 venues decaying just 6 months after Olympics (BEFORE & AFTER PHOTOS)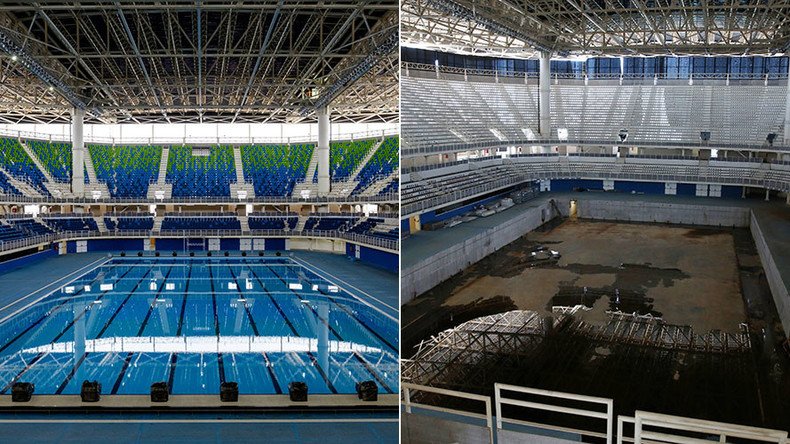 Six months after the curtain came down on Brazil's Olympic extravaganza, images of Rio de Janeiro's deserted sports venues reveal how quickly the shine of hosting the international event has worn off.
Sporting history is brimming with Olympic tales of woe, and Brazil is by no means the first country to struggle with finding a purpose for fancy new facilities once the global interest dissipates.
However, photographs taken in the aftermath of Rio's Games portray a sharp decline in some Olympic venues which only last year were pantheons of sporting glory. The images again raise questions over what type of legacy the Games have left on the South American nation.
Rio de Janeiro's historic Maracana stadium hosted the men's and women's Olympic football finals. However, there appears to be little ongoing maintenance work at the 78,000 seater since the 2016 Games, with seating torn up and the field in a desperate state.
READ MORE: Will Rio be ready & secure in time for 2016 Olympics?
Earlier this year, Brazil's O Globo reported how maintenance of the pitch stopped in December, while parts of the venue had been looted.
Other facilities such as the Olympic Park and its Arena Carioca venues have not fared much better. The sprawling park has certainly lost part of its vim and color without the large Olympic crowds.
Situated beside Rio's Jacarepagua lagoon, the Olympic Aquatics Stadium was planned as a temporary venue that could be taken down and moved on.
Now the pool, which saw USA swimmer Michael Phelps claim another gold medal, looks well past its sell by date.
You can share this story on social media: