Sanders rejoices as Trump inadvertently endorses universal healthcare (VIDEO)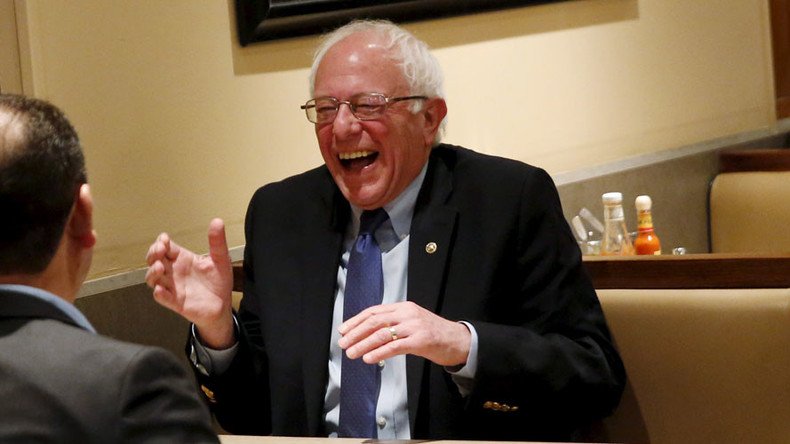 US senator Bernie Sanders has reacted with glee after hearing President Donald Trump praise Australia's universal health care system.
Trump made the remark shortly after a Republican bill to repeal and replace the Affordable Care Act, otherwise known as Obamacare, was passed by the House of Representatives.
During a press conference with Australian Prime Minister Malcolm Turnbull on Thursday, Trump criticised Obamacare while lauding his own healthcare plan.
READ MORE: Trump's first official NY trip marked by protests, meeting with Australian PM
"We have a failing healthcare..." Trump said to Turnbull, before adding, "I shouldn't say this to our great gentleman, and my friend, from Australia because you have better healthcare than we do."
Asked about the comments during an interview on US television, Sanders could not contain his laughter, saying: "Alright, the President has just said it. That's great. Let's take a look at the Australian healthcare system.
"Maybe he wants to take a look at the Canadian health care system or systems throughout Europe," Sanders added. "Thank you Mr. President. Let us move to a Medicare-for-all system that does what every other major country on Earth does: guarantee healthcare to all people at a fraction of the cost per capita than we spend."
Trump's new healthcare plan still has to pass the Senate, and Sanders pledged to quote the president's backing of the Australian system while debating the bill on the Senate floor.
Thank you Mr. Trump for admitting that universal health care is the better way to go. I'll be sure to quote you on the floor of the Senate. pic.twitter.com/GTFRHiKw6k

— Bernie Sanders (@SenSanders) May 5, 2017
Australia's 'Medicare' system is a "universal access" public insurance program that grants citizens free access to doctors, optometrists, and public hospitals free of charge. The cost of prescriptions is also partially covered. Australians can also buy private health insurance, which covers private hospitals, specialists and other health services.
The system is mostly funded by the government through a 2 percent levy on taxpayers, however low income earners can have that burden reduced or even waived.
However, one common complaint about the Australian system concerns long waiting lists that can build up for certain medical procedures and appointments.
Trump's press conference with Turnbull was also notable for an awkward moment when the US president failed to notice the Australian PM attempting to shake his hand.
The aborted handshake attempt is latest in a growing list of bungled Trump handshake encounters, with previous incidents involving German Chancellor Angela Merkel and Canadian Prime Minister Justin Trudeau.
You can share this story on social media: