First-ever 'moon' bricks bring lunar colony a step closer (VIDEO)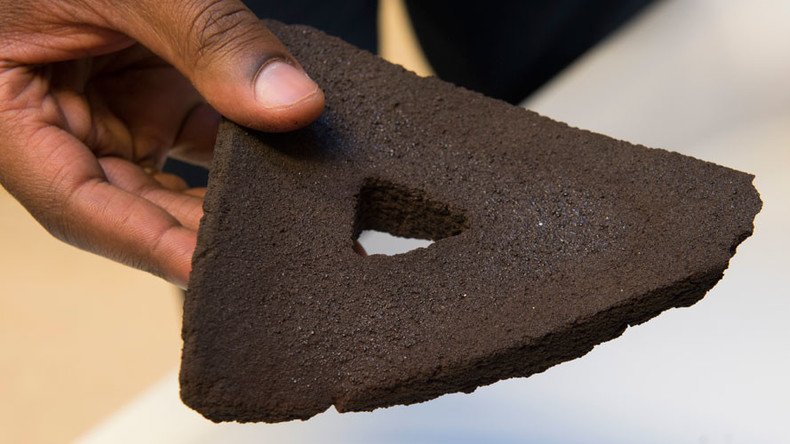 Scientists have created bricks from simulated moon dust using the sun's rays in a potential breakthrough for the development of future settlements on the moon – and beyond.
READ MORE: Earth from a billion miles away: Cassini captures mind-blowing image (PHOTO)
Researchers at the DLR German Aerospace Center facility in Cologne baked the bricks in a solar furnace which harnesses sunlight and exposes them to a high-temperature beam, melting soil grains together. The material – volcanic minerals processed to mimic the look and feel of lunar rock – is then 3D-printed as bricks.
"We took simulated lunar material and cooked it in a solar furnace," said Advenit Makaya, a materials engineer overseeing the project for the European Space Agency (ESA).
"This was done on a 3-D printer table, to bake successive 0.1mm layers of moondust at 1,000 degrees Celsius (1,832 Fahrenheit). We can complete a 20 x 10 x 3 cm brick for building in around five hours."
The furnace focuses sunlight using 147 specially designed curved mirrors. Such was the lack of good weather in Northern Europe, however, an array of xenon lamps were used as solar stand-ins on overcast days.
Experts have long speculated about the viability of a lunar station, with the expense of carrying building materials the long distance to the moon making it difficult to sustain large projects. Now, however, scientists believe it could one day be possible.
Makaya, who earlier this year oversaw similar tests on simulated Mars dust, said: "For now this project is a proof of concept, showing that such a lunar construction method is indeed feasible."
The Cologne study represents another in a series of ESA projects exploring the development of lunar infrastructure.
Last year, both the Chinese and European space agencies announced plans to construct a joint base on the moon. Groundwork for the supposed 'Moon Village' will begin in November when China aims to send a probe to the moon to retrieve rock and soil samples, according to its state media.
Meanwhile, the forthcoming RegoLight project aims to further develop existing 3D technologies by testing printers in a vacuum and high-temperature environments – meaning the moon is perhaps not the only target for off-world habitation.
You can share this story on social media: