Jaywalk of shame: Chinese city seeks to deter pedestrians from breaking road laws (VIDEO)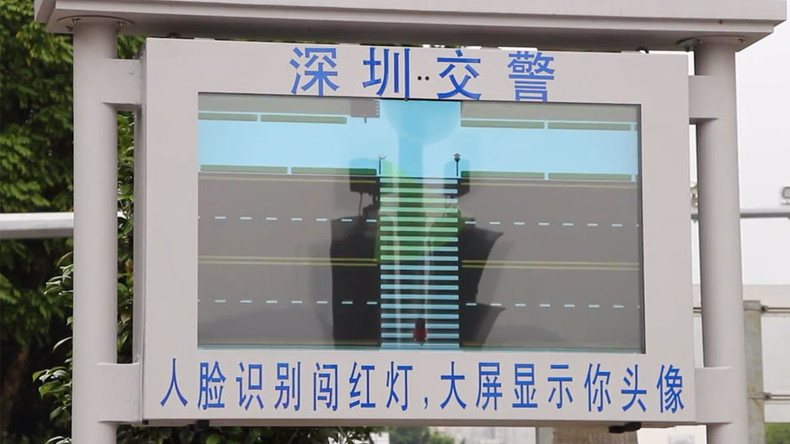 Shenzhen is rolling out a high-tech initiative to shame jaywalkers out of their bad habits by displaying their faces on large screens.
The new device, dubbed the 'Electronic Police,' was installed at a zebra crossing at the intersection of Xinzhou Road and Lianhua Road in Shenzhen, one of China's wealthiest cities, north of Hong Kong.
"The term 'Chinese Style Road Crossing' was created by a Chinese netizen in 2012, stating that when a large crowd of pedestrians try to cross a road together, there is no need to obey the traffic rules. It is based on an underlying assumption that law enforcement officers would not punish a large number of offenders all at once," State University of New York at Albany graduate, Zhong Zheng, explained on safekids.org in autumn 2016.
The 'Smart System for Collecting Evidence of Jaywalking' captures the image of the offender and projects their photo onto a big screen.
"People might be ashamed of running on the red light by seeing their names on the public screens. However, the technology of face detecting has to be 100% accurate," a passerby told Ruptly news agency.
The technology is being tested on that one crossing before the city decides to roll it out across the whole of Shenzhen. As with drivers, pedestrians caught on camera will also be fined 100 yuan ($14).
READ MORE: Smart traffic: China introduces lane-changing robots to ease infamous gridlock
Motorists can also fall prey to the new system due to its sonar technology, which can capture any honking sound. Horn honking is banned in downtown Shenzhen, resulting in a fine of 500 yuan, China Daily reports.