'Critically endangered' black rhinos back in Rwanda after 10 years
Published time: 3 May, 2017 11:39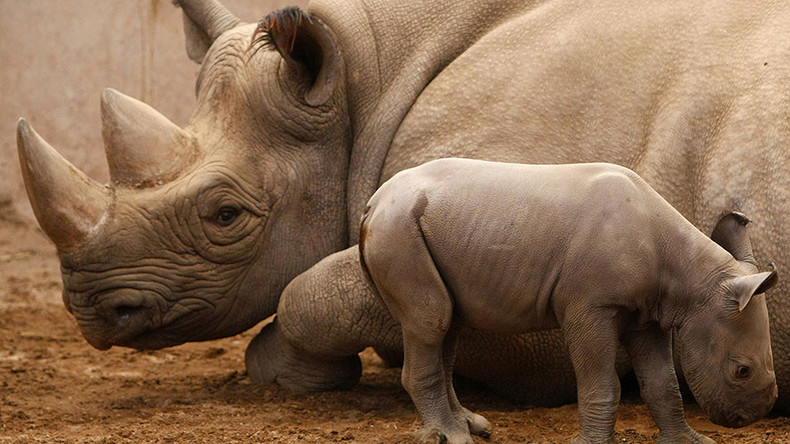 Ten eastern black rhinos have been relocated to a Rwandan national park a decade after the species was last sighted in the country.
The endangered rhinos have been moved to the Akagera National Park from South Africa and are the first black rhinos to set hoof in the country since 2007. The 10 animals are the first of many due to be relocated to Rwanda.
Eastern black rhinos are critically endangered, with only around 1,000 in the wild, according to International Union for Conservation of Nature (IUCN).
In the 1970s more than 50 of the animals, which can weigh up to 2 tons (metric), thrived in the east African country but were targeted by poachers over the following four decades.
Rhino horns, made of keratin, are prized targets for poachers due to high demand from the Asian market for use in traditional medicine.
The relocation effort is the result of a collaboration between African Parks, a non-profit group which manages protected areas for African governments, including Rwanda.
"Rhinos are one of the great symbols of Africa, yet they are severely threatened and are on the decline in many places across the continent due to the extremely lucrative and illegal rhino horn trade," African Parks CEO Peter Fearnhead said in a statement.
"The rhino's return to this country, however, is a testament to Rwanda's extraordinary commitment to conservation and is another milestone in the restoration of Akagera's natural diversity," he added.
In a Facebook post, African Parks said that it was "excited" that the rhinos have returned and that increased security measures have been put in place to ward off unscrupulous poachers.
Following the rhinos' reintroduction, Akagera is once again home to Africa's 'big five' – the others being lions, elephants, leopards and buffalos.