Brave pilot makes gutsy emergency landing in Florida after losing 1 wheel (VIDEOS)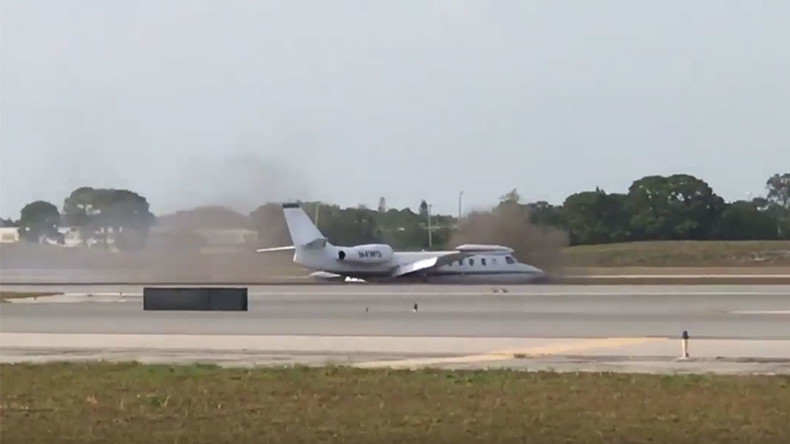 Sparks flew as the pilot of a small aircraft carrying three passengers was forced to make a daring landing on just two wheels at an airport in Florida on Friday.
The plane reportedly lost its third wheel as it was taking off from the runway in Belize. The pilot was notified immediately, but chose to continue the flight to the United States and brave the bumpy landing.
The plane's identification code 'N4WG,' which is clearly visible once the aircraft comes to a stop, has been corroborated with other footage of the incident taken by local media.
The ID tags are also visible in this still image of the plane uploaded by a local firefighter to Instagram in the hours after the incident.
"They said they were fine, shook up obviously but they said they were fine," airport president Rick Piccolo said after the emergency landing, as cited by the Metro.
"They refused any medical attention," Piccolo added, after noting that all four people on board had quickly run from the plane after landing in case it caught fire.
The emergency landing took place at Sarasota-Bradenton International Airport in Florida, roughly 50 miles (80km) south of Tampa – the plane's original destination. No one was injured.
The plane was forced to circle the airport for approximately an hour in order to reduce the amount of fuel on board and, thus, the potential for a fire breaking out during the rough landing, reports local WTSP News.
The emergency call came in shortly before 5pm on Friday, reports ABC Action News, citing the airport's senior VP and COO, Mark Stuckey.