'Slavegals for sale': Student faces expulsion over racist Craigslist ad – reports
Published time: 28 Apr, 2017 23:23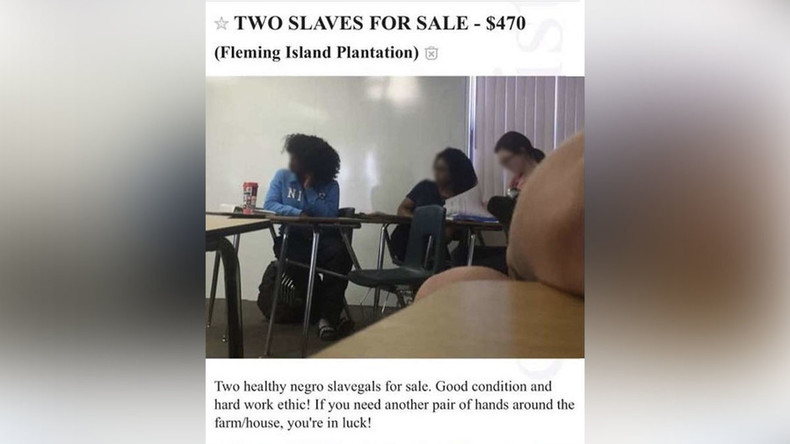 A student in Florida has been suspended after posting a racist advertisement on the website Craigslist. The ad, titled "Two Slaves for Sale – $470," was posted alongside a picture of two African American female students.
The picture was posted by a student from Fleming Island High School near Jacksonville along with the caption: "Two healthy negro slavegals for sale. Good Condition and hard work ethic! If you need another pair of hands around the farm/house, you're in luck!"
"We do not tolerate this type of behavior and we are disheartened that any of our students would be subject to discrimination," said Superintendent for the Clay County District Schools Addison Davis.
The ad, which was geographically tagged to "Fleming Island Plantation," has since been taken removed from the classified ads website.
Skye Fefee, one of the students in the ad, told ABC's First Coast News that her friends first brought the ad to her attention.
"Everyone started tagging me in the post, and then my mom saw it and was disturbed by it," Fefee said. "I was really upset about it because Fleming Island is known for racial slurs. This school year someone wrote on the toilets … 'whites only'."
Fefee also challenged the school to discipline her fellow student, reportedly a male senior, adding: "I think the student should be expelled. The administration doesn't pay attention to this. They need to better monitor the students."
A woman identifying herself as a cousin of one of the girls in the picture called the ad "disgusting, ignorant and plain disrespectful" on Facebook.
READ MORE: Sex for shelter: Craigslist ads offer homeless women indecent proposal
"What if hypothetically speaking a weirdo reached out to the clown who posted this on Craigslist asking to purchase my little cousin and the other young lady shown in the pic?" she wrote. "Was he going to tell them to make the transaction or just say it was a 'joke.'"
The student, who has not been named, has received a 10-day suspension. The school board are deciding on further punishment with local reports suggesting he could be expelled or moved to another school.