'Drunk guys in Silicon Valley are spineless': Man condemned for beating up robot
Published time: 26 Apr, 2017 17:46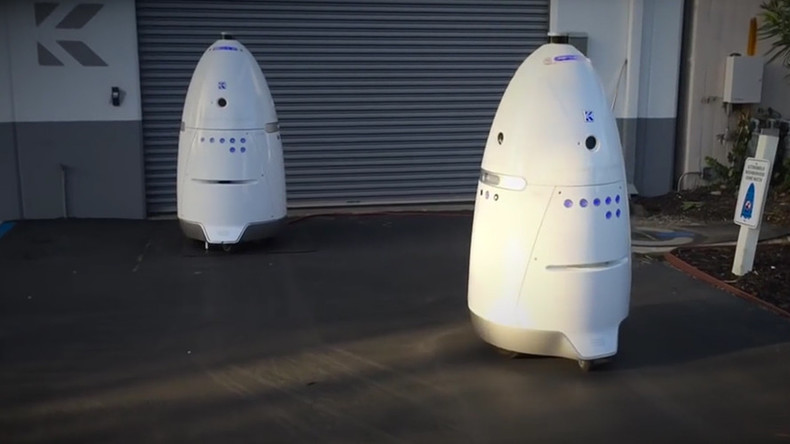 It's not quite the plot of a Hollywood blockbuster pitting man against machine but almost as unlikely. A security robot on patrol outside a Silicon Valley shopping mall has reportedly been attacked by a drunk man.
The 300lb (136kg) robot suffered minor scratches to its body after allegedly being knocked to the ground by Jason Sylvain, 41, in a car park in Mountain View, California.
Sylvain was later arrested and charged with prowling and public intoxication.
"I think this a pretty pathetic incident because it shows how spineless the drunk guys in Silicon Valley really are that they attack a victim who doesn't even have any arms,"said local resident Eamonn Collins.
READ MORE: RoboMallCop: Security android 'attacks' child at California mall (PHOTOS)
The egg-shaped robot, named K5, is made by Silicon Valley startup Knightscope. It can read 300 licence plates per minute and is equipped with 360-degree video streaming, thermal imaging sensors, a laser range finder, radar, air quality sensors and a microphone. Using these sensors, K5 can identify known criminals and alert security guards.
The only previous incident involving K5 was in July 2016 when the machine collided with a toddler at the Stanford Shopping Center in Palo Alto, California. Knightscope subsequently withdrew all its K5 robots from active duty.
An investigation ruled the incident, which resulted in bruising to the child's leg, a "freakish accident" and the company issued a formal apology to the child.