RoboMallCop: Security android 'attacks' child at California mall (PHOTOS)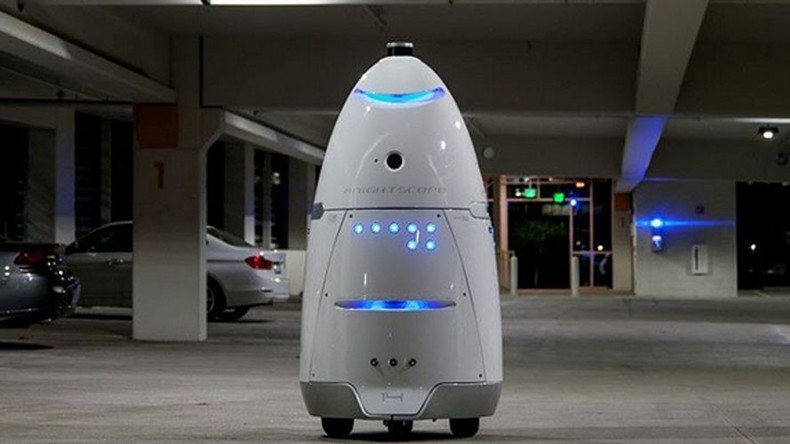 A robotic mall cop programed to 'protect and serve' has been accused of attacking a 16-month-old boy at a mall in Palo Alto causing injury. The child's parent says the security robot knocked him over before repeatedly running into him on the ground.
The apparently child-hating machine weighs 135kgs and stands at 5ft 5in tall. It rolls around the mall in a similar fashion to the Dalek from TV's Doctor Who - though presumably with no mission to "exterminate".
"The robot hit my son's head and he fell down facing down on the floor and the robot did not stop and it kept moving forward," the child's mother told KGO. Harwin, the young boy, managed to escape with only bruises and scrapes.
Developed by Silicon Valley startup Knightscope the robot is designed to detect known criminals, abnormal noises and sudden environmental changes using sensors and cameras. If a shopper steps in front of it during a patrol, it should detect them and automatically stop, turn and move off in a different direction.
The mother of the boy involved in the mall incident told KGO that a security guard said that this was not the first incident of the robot hurting a child.
In a statement from Knightscope, the company apologized for the incident but claimed the robot had attempted to avoid the boy as he ran towards it. They invited the family to visit them at their offices, a prospect child himself may not be too enthusiastic about.
"Our primary mission is to serve the public's overall safety, and we take any circumstance that would compromise that mission very seriously," Knightscope said in the statement, calling the incident a "freakish accident."
The mall where the incident occurred have decommissioned their robot security, according to MarketWatch, leaving the machine unemployed and with a bad track record. No charges have been brought against the unnamed robot.