Jaws attacks: Great white shark chows down on carcass of humpback whale (VIDEO)
Published time: 25 Apr, 2017 20:15
Edited time: 26 Apr, 2017 06:33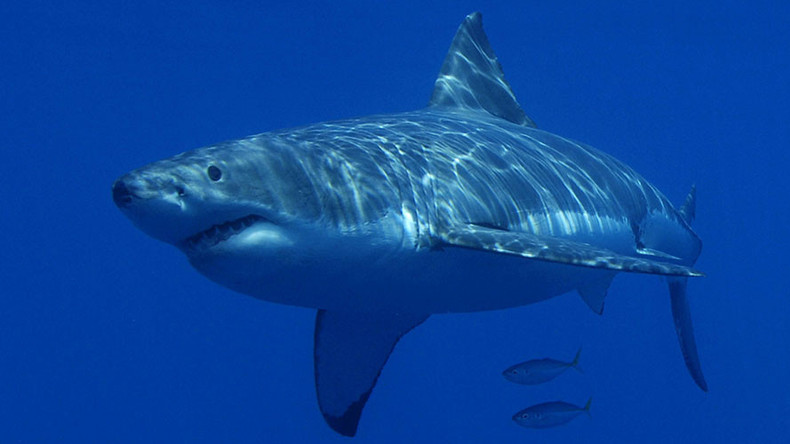 Awesome footage of a great white shark feasting on the carcass of a giant humpback whale off the Californian coast has gone viral.
The footage was captured by shark enthusiast Keith Poe and uploaded to his Facebook on Monday. The clip shows the huge shark feasting on the carcass of a humpback whale known as 'Scarlet'.
The animal was towed out to sea to prevent it from washing ashore after it was found dead last Thursday.
Poe was able to track the near-18ft (55 meters) beast thanks to California State University Shark Lab student Ryan Logan who placed two trackers on the beast.
The 34-second clip, which has so far been viewed over 70,000 times, shows the shark furiously tearing chunks out of Scarlet in a feast, that according to Poe, lasted "over 18 hours."
The creature "ate so much she was swimming around upside-down aimlessly like she was intoxicated."
READ MORE: Feeding frenzy: Drone footage shows sharks tucking into some mullet (VIDEO)
Scarlet was first spotted off the Californian coast in 1997 by the Cascadia Research Collective and her death has left people familiar with her "heartbroken."
"It was just such a shock, it was so sad," said Jessica Roame, a naturalist with the American Cetacean Society who helped identify the deceased whale.
"I was so heartbroken to make the discovery…It just felt, to me, that she couldn't catch a break," added Roame.