'Never seen anything like it': Ornate Victorian dildo on sale at Irish auction
Published time: 22 Apr, 2017 14:37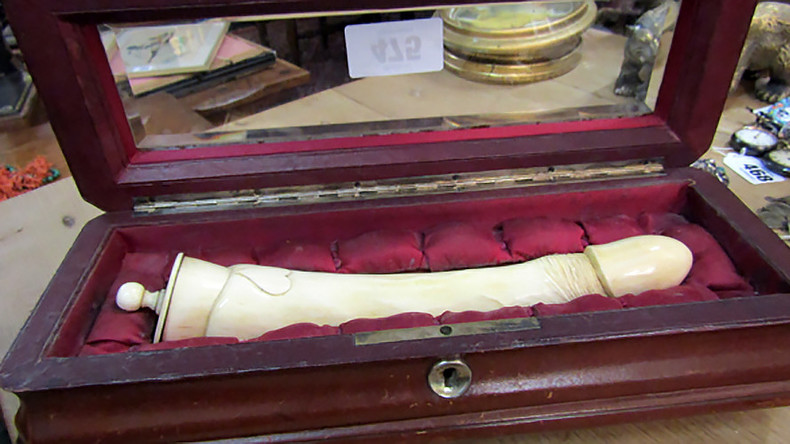 A well-endowed, Victorian-era ivory sex toy is going under the hammer this weekend in Ireland.
Matthews auctioneers have put the "Antique Carved Ivory Ladies Companion" complete with "Scarlet Lined Leather Upholstered Carry Box" and "Inset Bevelled Glass Panel" up for sale. The antiquated sex aid is expected to fetch between €500 - €800 ($536 - $858).
"It is a beautiful piece, which comes from one of the well-known Anglo-Irish families. A family member found it in a drawer, and he put it in the auction for fun really," auctioneer Damien Matthews told the Irish Times.
"We believe the ivory dates back to the 1840s. This fellow, the original owner, was in India in the 1840s, where he shot himself an elephant, and brought the tusk home," he said.
READ MORE: 'Bespoke bronze dildos are rare': Ancient Chinese sex toys to go on display
Matthews believes that upon retrieving the precious ivory, the owner sought the help of Chinese carvers to create the unusual item.
"The Chinese were famous for carving ivory, and the quality of carving is so good, I think that is where he would ... have had it done. He would not have known that he was coming home, and would have wanted his wife to have this," Matthews said.
The Victorians were a notoriously prudish bunch, leading Matthews to believe that the man behind the erotic tusk was quite the modern husband.
"This was a very enlightened family, and this would have been a very loving gift from a husband to wife. You can see that because the level of detail is incredible, down to the folds of the skin," said Matthews.
"There's a heart carved at the base of it, where her finger would have been, and a receptacle in which she could keep a lock of his hair," he said.
"I've been at this 25 years and I've never seen anything like it. You do get the Victorian era massagers (dildos) every so often that come up for auction, but nothing like this," said Matthews.
"You've got to remember in Victorian times, the amount of people that could afford to indulge or create something like this was tiny. Ninety-nine percent of the country were trying to get by, so there were perhaps 400 or 500 families in the country with those kind of means. It's not just a piece of erotica – it's a work of art, and a fascinating piece of social history," he added.