'Trump, Kim or Putin?' Online conspiracy theorists go wild over US power outages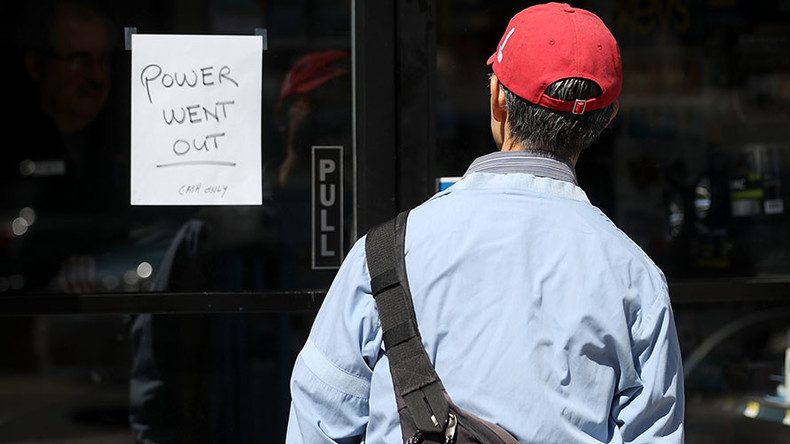 A series of massive power outages across New York City and San Francisco have sent conspiracy theorists and commuters into a tailspin.
The chaos began during Friday morning rush hour when an outage occurred at the 7th Avenue subway station in the midtown Manhattan area of New York, beginning a chain of extensive delays across 11 other lines on the subway system.
READ MORE: 'Totally surreal': Blackouts hit LA, New York and San Francisco
Some commuters said their commute was delayed by two to three hours.
At 11:30am local time, some four hours after the beginning of the chaos, the Metropolitan Transportation Authority confirmed generators had gotten the hub back up and running. The cause of the outage is still unknown.
Meanwhile, around 90,000 people in San Francisco are without power due to a fire in a downtown electrical substation, according to a spokesman for Pacific Gas & Electric (PG&E).
The loss of electricity brought the city's technology and financial districts to a near standstill.
The power loss, which happened during the regular rush hour commute, caused havoc among workers while a lack of working stoplights, coupled with BART station closures, slowed traffic on major routes.
READ MORE: 'Hello darkness my old friend': TweetDeck users grumble over power app outage
Naturally the coincidental outages on opposite sides of the country have awoken Twitter's comedians and conspiracy theorists in equal measure.
For others, it was clearly the work of one or two countries in particular - Russia or North Korea.
Not everyone thought it was an outsider hack though, with some instead looking to The Donald being to blame.
Others were able to see through this though, knowing full well what this power outage meant - an impending apocalypse.