Ancient Egyptian tomb discovered with mummies, funerary statues near Luxor (PHOTOS)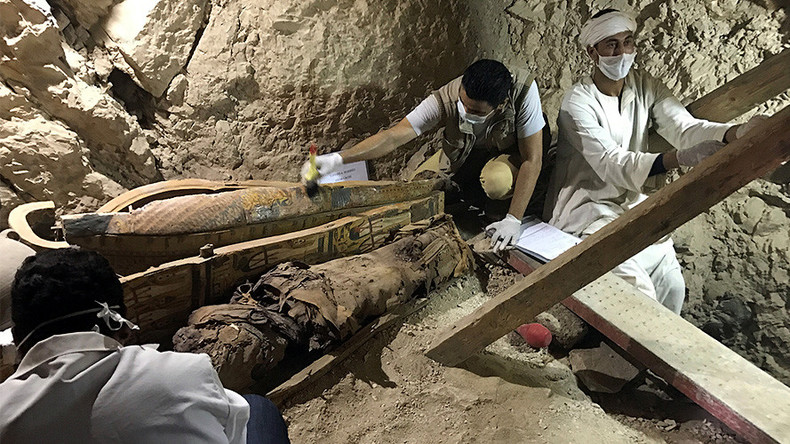 An ancient Egyptian tomb, believed to belong to an 18th-Dynasty magistrate, has been discovered near the city of Luxor alongside a number of linen-wrapped mummies and a funerary collection containing more than a thousand statues.
The Tomb of Userhat was found in the Draa Abul Nagaa necropolis in the West Bank area, close to the famed Valley of the Kings. Its discovery was confirmed Tuesday by the Egyptian Ministry of Antiquities.
Director General of Luxor Antiquities Mostafa Waziry said that the tomb most likely belonged to the city's former magistrate, Ou Sarhat, reported Ahram Online.
READ MORE: Hidden statue of Queen Tiye, grandmother of Tutankhamun, uncovered in Egypt temple (PHOTOS)
The antiquities office described the site as a typical nobleman's tomb consisting of an open court leading into a rectangular hall, a corridor and an inner chamber. A well-preserved wooden coffin, decorated with colorful scenes, was found in the rectangular hall.
Two other joint tombs were discovered during the excavation process and archaeologists are working to "reveal the secrets" of these burial finds.
A collection of sarcophagi from the 21st Dynasty, with mummies wrapped in linen, was found in the inner chamber. The archaeologists are examining the mummies to discover the identities of the dead and the causes of their deaths.
More than a thousand 'ushabti' funerary figurines carved in tin-glazed pottery, terracotta and wood were also discovered, as well as a collection of clay pots of varying shapes and sizes.
The ministry said the find is remarkable due to the funerary collection being largely intact.
READ MORE: 3,700yo pyramid remains found near ancient Egyptian burial site (PHOTOS)
You can share this story on social media: