Handy hint: Melania prompts Trump on national anthem protocol as Twitter implodes (VIDEO)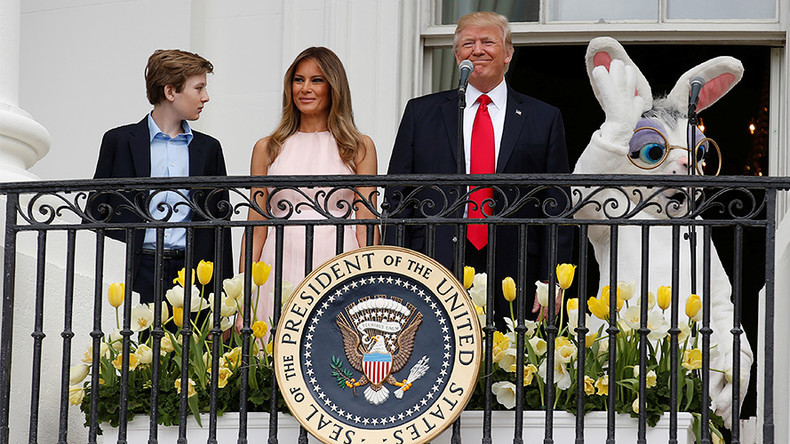 The irony of Donald Trump's Slovenian-born wife Melania gently nudging the president during the American National Anthem has not been lost on the eagle-eyed Twitteratti, who have been reacting to the viral moment.
Trump was standing with the First Lady and their son Barron during a performance of the National Anthem ahead of the White House Easter Egg roll on Monday when he got a subtle reminder on traditional protocol.
Melania and Barron had both raised their hands to their hearts as a sign of respect, but Trump's mind appeared to have wandered elsewhere.
Perhaps the president was already counting up attendance figures for Monday's annual event, which issued invitations to 21,000 people, as one Twitter user suggested.
READ MORE: 'You are wrong': Trump & spokesperson blast media over inaugural attendance figures
Others speculated that Trump had simply misinterpreted the moment as a pledge of allegiance to him.
Of course the fact that it took an immigrant to tell the US President how to behave during this traditional display of American patriotism only provided more fodder for netizens. While Trump's misstep was met with routine trolling, Melania's reaction was largely praised as a "real" moment between a married couple.
The 139th annual White House Easter Egg roll guest list included military families, children from local schools and hospitals, and children of staff members.
White House Press Secretary Sean Spicer, who previously donned the Easter Bunny suit during the George W. Bush administration, happily took on the role of storyteller at this year's event.
Spicer, however, did take a moment to pose with his Easter Bunny successor and share the snap on Instagram.
Last month the White House Press Secretary tweeted a picture of himself as the White House Easter bunny alongside the message "The good ole days – what I would give to hide in a bunny costume again."
READ MORE: 'What I would give to hide in a bunny costume again': Sean Spicer's furry past revealed