Marvel or monster? Scientists find living specimen of legendary giant shipworm (VIDEO)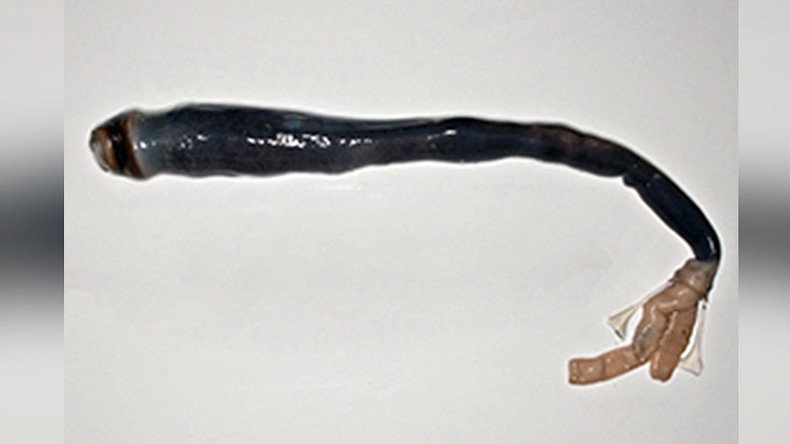 The truth behind the centuries-old legend of the giant shipworm has finally been confirmed by scientists, who got up close and personal with the elusive, sulfur-feasting creature for the first time.
READ MORE: Horrifying haul: Russian fisherman pulls terrifying 'monsters' from the deep (PHOTOS, VIDEOS)
A team of international researchers examined the first living giant shipworm in the Philippines, throwing some light on the mysterious Kuphus polythalamia species – the longest bivalve mollusc in the world, reaching up to 5 feet (1.52 meters) in length.
The bizarre-looking animal, encased in a tusk-like shell, may be the stuff of nightmares for many, but its discovery offers scientists a unique opportunity to unravel the secrets of the rare specimen.
"The shells are fairly common, but we have never had access to the animal living inside," lead investigator and director of the Ocean Genome Legacy Center at Northeastern University, Daniel Distel said.
"Being present for the first encounter of an animal like this is the closest I will ever get to being a 19th-century naturalist," said Margo Haygood, study author and research professor in medicinal chemistry at the University of Utah College of Pharmacy.
The study, published in the journal Proceedings of the National Academy of Sciences, came about after the team watched a documentary that aired on Philippines television showing the creatures in their natural habitat – the mud of a shallow lagoon.
READ MORE: New Mars photo shows countless worm-like dunes on red planet (PHOTO, VIDEO)
Taking this as their lead, the researchers launched an expedition which resulted in the incredible find of a live specimen of the Kuphus polythalamia. Distel washed the mud caked to the outside of the giant shipworm shell and tapped off the outer cap to reveal the long black creature living inside.
Researchers confirmed that, as they had suspected, the giant shipworm was "radically different" from other wood-eating shipworms. Unlike the regular shipworm, which burrows deep into the wood of trees washed into the ocean and digests it, the giant shipworm makes its home in foul-smelling mud.
The mud emits 'rotten egg gas', hydrogen sulfide, which is used by bacteria in the giant shipworm's gills as energy to produce organic carbon for feeding the animal.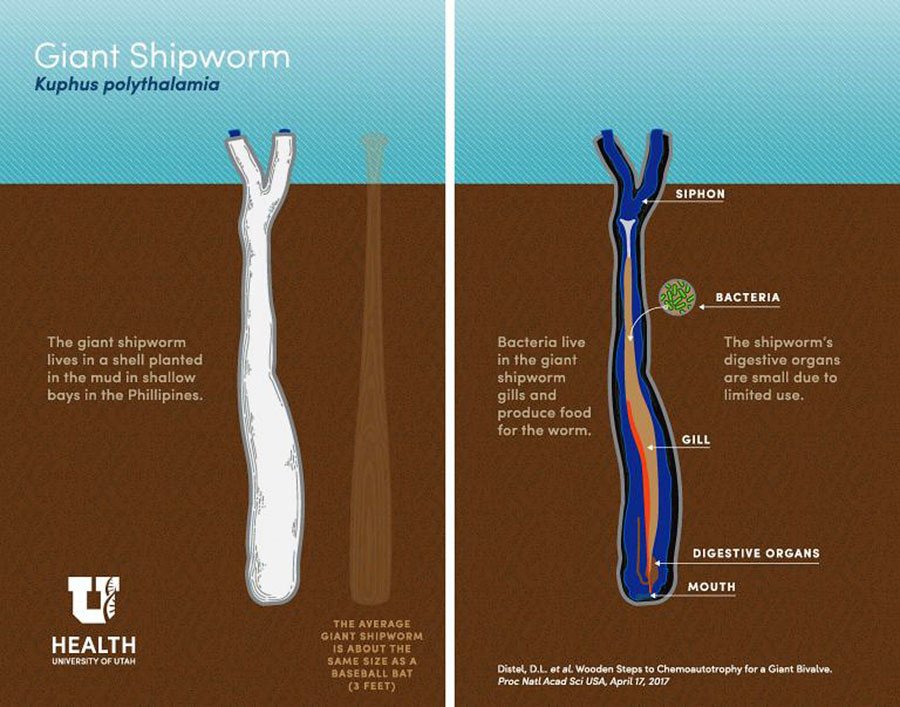 The research team said it will continue to examine the role wood plays in "the unique transition" between the normal shipworm and the giant shipworm.
"We are also interested to see if similar transitions can be found for other animals that live in unique habitats around the world," said Distel.
You can share this story on social media: