Ronaldo accused of paying $375,000 to mute rape allegation
Published time: 15 Apr, 2017 13:57
Edited time: 11 Apr, 2018 14:47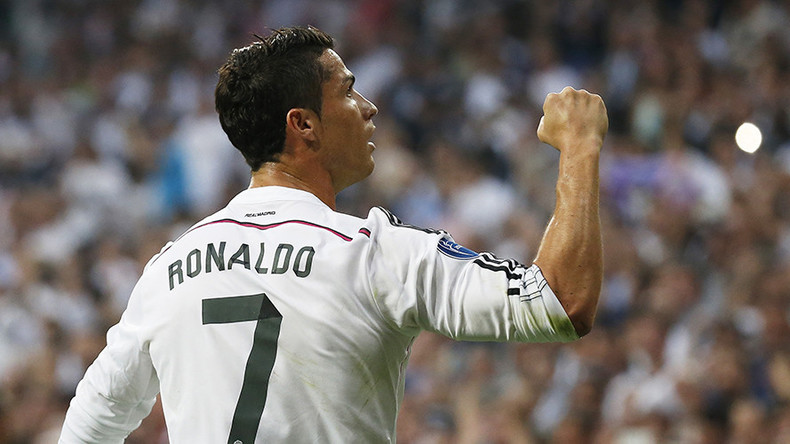 Cristiano Ronaldo has been accused by a German magazine of paying hush money to a woman who accused him of rape in 2009.
Ronaldo's representatives Gestifute issued an official statement late on Friday denying the Der Spiegel claims that the Real Madrid icon payed €353,000 ($375,000) to a woman who claims he raped her in a Las Vegas hotel room in 2009, the same year he made his then world record transfer from Manchester United to Real Madrid.
The magazine cites documents allegedly from an out-of-court agreement, which it claims were obtained from Football's equivalent of WikiLeaks 'Football Leaks.'
The documents reportedly impose a gag order on the woman ever discussing the claims in public. Der Spiegel also claims that it knows the identity of the alleged victim who reportedly agreed to drop the charges in return for the payment.
The allegation has dampened adulation after the Portuguese megastar became the first footballer to score 100 goals in European competition during his side's 2-1 victory over Bayern Munich in Germany on Wednesday night.
Writing on behalf of its client, Gestifute called the article, "nothing but a piece of journalistic fiction."
"The alleged victim refuses to come forward and confirm the veracity of the accusation. The newspaper has based their entire narrative on documents which are unsigned and where the parties are not identified, on emails between lawyers whose content does not concern Cristiano Ronaldo and whose authenticity he cannot verify, and on an alleged letter that is said to have been sent to him by the so-called victim, but was never received by Cristiano."
Gestifute said that Ronaldo "will do everything in his power to react against these (allegations)" which it described as "false," "disgusting and outraging."
The player's representatives said that Ronaldo "will not allow it to hang over his reputation."
This is not the first time the publication has accused the star of wrongdoing. Last year, also citing documents from Football Leaks, Der Spiegel claimed that Ronaldo and his former Real Madrid manager, Jose Mourinho, used shell companies in the Caribbean to collect their 'marketing earnings,' (revenue generated from sponsorships and selling their image rights) thus avoiding paying tax in Spain.
READ MORE: Cristiano Ronaldo has airport named in his honor... but bust breaks internet