Cabin fever: Shia LaBeouf fires back as trolls target his Lapland-based art project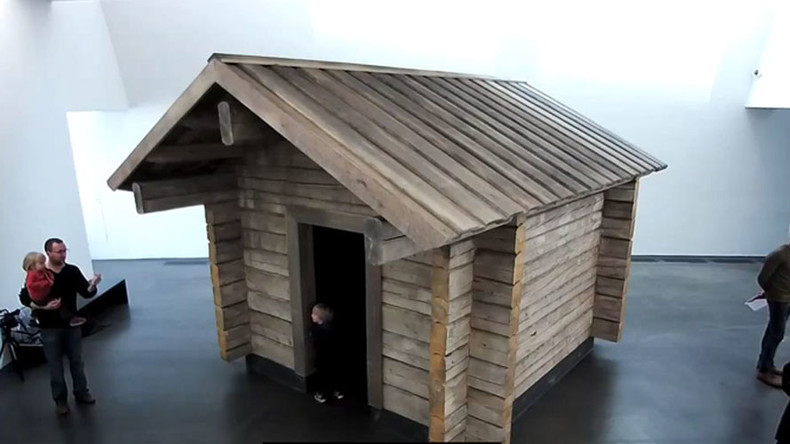 Shia LaBeouf has decamped to Finland's Lapland for his latest performance art project, #AloneTogether – but hasn't quite managed to evade the wrath of internet trolls who seem set on tracking down the US actor.
The controversial actor launched his latest live-stream installation on Wednesday, which sees him cut off from the world in a wooden cabin in an undisclosed area of Lapland.
LaBeouf is spending a month alone in the cabin where his only communication with the outside world will be through text messages and a livestreamed video link with visitors to Kiasma museum in Helsinki.
Members of the public will be able to enter a version of the cabin in the museum and send messages to LaBeouf. A public stream is displayed outside the museum cabin where anyone can read the conversations.
Nastja Säde Rönkkö and Luke Turner are also collaborating on the art project, confining themselves to other, separate cabins. The three will not be able to communicate with each other. The performance has been described in Dazed magazine as an antidote to being "constantly connected".
The project is hot on the heels of LaBeouf's #HeWillNotDivideUs livestream, an anti-Donald Trump protest. The installation was moved three times, even as far as the UK, following a number of violent incidents and targeting by alt-right trolls. It was intended to last the duration of Trump's term but is no longer active.
READ MORE: Shia LaBeouf's 'He Will Not Divide Us' art installation closed due to violence at museum
Similar to the #HeWillNotDivideUs, stream LaBeouf's latest venture is also being targeted, with trolls setting themselves the ultimate task of tracking down the cabin's location.
Finland's version of 4chan, Ylilauta, is being used by local members for the task, according to Heatstreet.
Some social media users are also taunting LaBeouf by wearing Trump 'Make America Great Again' hats and accusing the actor of having internet access in the cabin.
La Beouf called out his detractors, saying that their fascist political ideologies originate from sexual frustration as a result of not being able to "get any women."
READ MORE: 'Racist b*tch': Shia LaBeouf kicked out of LA bowling alley after drunken row (VIDEO)