German cops find 380kg of cocaine in boxes of bananas (PHOTO)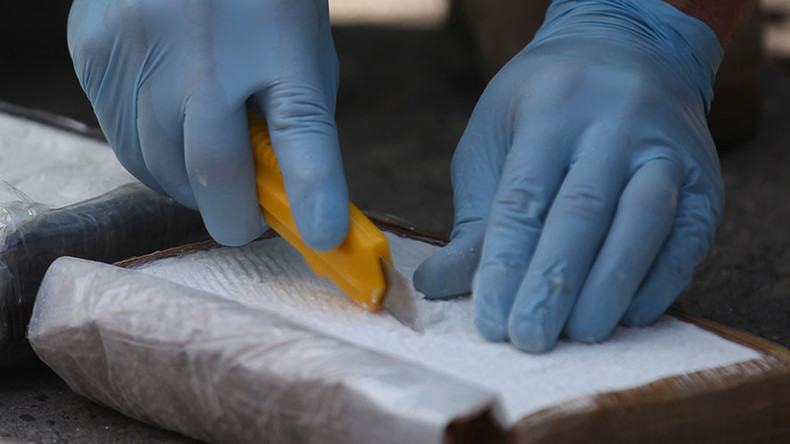 Police in Cologne, Germany discovered 384 kilograms (847 pounds) of cocaine in cases of bananas shipped from Ecuador in what they describe as the biggest drugs seizure in the city's history.
The huge cocaine haul was found in hundreds of one-kilogram packages hidden in 26 cases of bananas at a fruit wholesale company in Leverkusen, just north of Cologne.
An employee of the company found the drugs in a storage room and tipped off authorities, police said. Investigations indicate that the cocaine was shipped from Ecuador to Hamburg before being trucked to Leverkusen.
Police say all samples tested so far have come back positive for cocaine. Detectives also found a GPS transmitter in one of the banana boxes. "The investigators are currently assuming that the drug traffickers wanted to find the narcotics in large warehouses faster through this device," police said.
There was no immediate estimate on the street value of the haul.
READ MORE: Banana bust: 17 kilos of cocaine found among fake fruit in Spain (VIDEO)
This is the second time in less than a month that cocaine has been found hidden among bananas in Europe. In late March, Spanish police found nearly 60 pieces of artificial fruit containing seven kilograms of cocaine mixed among real bananas, with another 10 kilos packed in cardboard boxes.
The fake bananas were found during an operation in the coastal cities of Malaga and Valencia. Two people were detained on charges of drug trafficking.