Angry rhino charges at conservationists seconds after release into wild (VIDEO, PHOTOS)
Published time: 5 Apr, 2017 18:10
Edited time: 6 Apr, 2017 17:42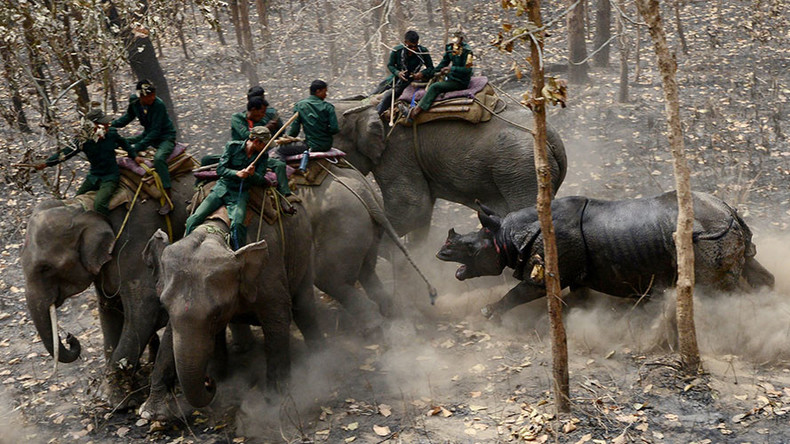 A rambunctious rhino was filmed charging at conservationists riding on elephants, moments after they had released it back into the wild.
The rare one-horned rhinoceros, also known as the Indian rhino, was one of five being released into Nepal's Chitwan National Park to help boost the population of the dying breed.
Forest workers climbed onto the roof of the van that transported the rhino as the huge mammal rammed into the vehicle and charged at conservationists.
READ MORE: Czech Zoo begins cutting off rhino horns to pre-empt poacher attacks (VIDEO)
This particular rhino is the only male being relocated to the area, while four females will be released later this week, in an attempt to continue the conservation push that increased the number of one-horned rhinos from 100 in the later part of last century to the 645 believed to be living in Chitwan National Park now.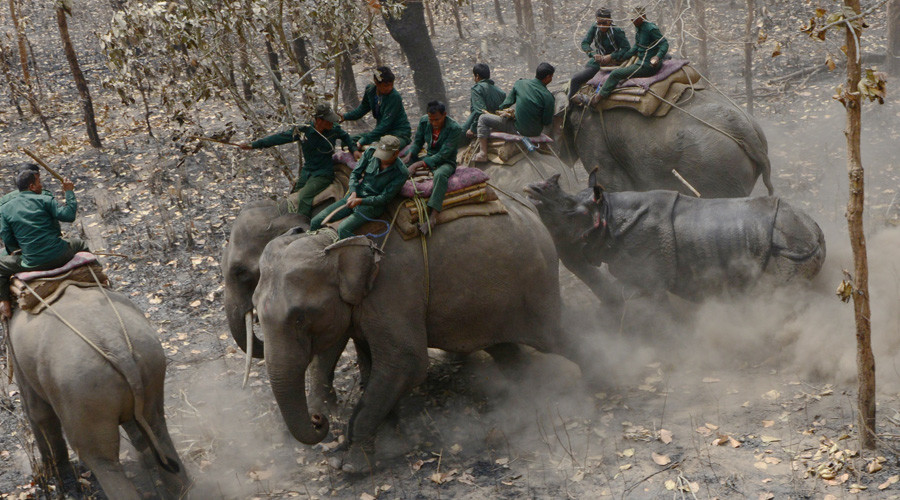 Although rhinos once freely roamed across Eurasia and Africa, very few now survive outside of national parks and reserves. Two species in Asia – Javan and Sumatran rhinos – are considered critically endangered.
READ MORE: Roaming rhino becomes Nepalese town's most popular visitor (VIDEO)
With all species combined there are fewer than 30,000 rhinos left in the wild across the world. Poachers can sell Rhino horns for thousands of dollars on the black market, often to be used in traditional Asian medicines.
A zoo in the Czech Republic recently took the drastic step of removing the horns from its rhinos, following a brazen dehorning attack in France, which saw the animal killed by poachers.