James Comey's secret Twitter account allegedly exposed & he seems impressed
Published time: 31 Mar, 2017 13:58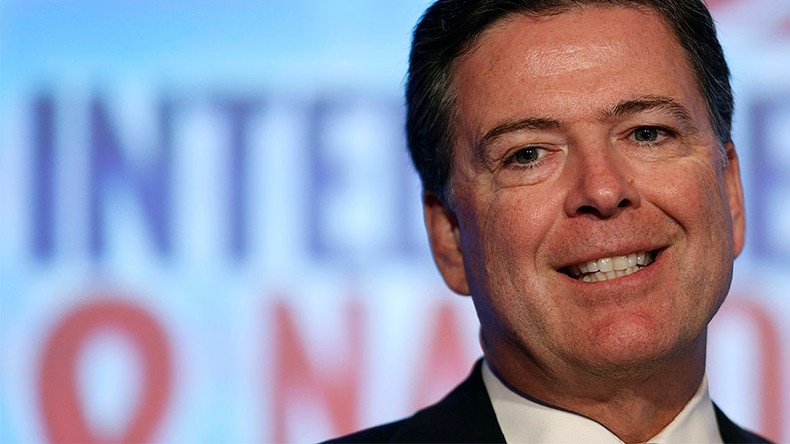 FBI Director James Comey has been the target of an internet investigation to uncover his secret social media accounts – and it appears it didn't take long for them to be exposed. In a surprise twist, Comey appears to be impressed by the probe.
Gizmodo journalist Ashley Feinberg began digging for the FBI chief's accounts after he revealed his social media presence at the Intelligence and National Security Alliance's leadership dinner on Wednesday.
"I'm on Twitter now, I have to be on Twitter," Comey said, as he told an anecdote about his daughter showing him social media comments made about him.
Comey also revealed details about his Instagram account, allowing Feinburg to uncover social media accounts that appear to belong to the FBI director.
After searching for Comey's family members and finding his son's Instagram account, Feinburg found one of his followers with a strange name – ReinholdNiebuhr. The private account had no profile photo and a few followers.
After searching the name, Feingold came across an interview with Comey on a college website. In it, the FBI director mentioned writing his thesis on theologian Reinhold Niebuhr.
Feinberg then searched Twitter for Reinhold Niebuhr accounts. One account in particular stood out – @projectexile7, which appears to reference a federal program Comey helped develop as an attorney.
At the time of Feinberg's investigation, the account was public and had only one follower, Benjamin Wittes, a self described "personal friend" of Comey's.
The account had liked 39 tweets, including eight that referenced Comey or the FBI.
While signs point to Comey owning both accounts, it has not been proven and, short of an admission from Comey, it's unlikely to be verified.
Since Feinberg published her findings, however, the accounts' followers have skyrocketed to 212 for Instagram, and over 8,280 on Twitter, with the latter account now private.
ProjectExile7 appeared to be impressed rather than annoyed at being uncovered. The account reportedly tweeted an Anchorman meme reading, "I'm not even mad, that's amazing," with a link the the FBI's careers page.
As for Instagram, ReinholdNiebuhr's account was changed from private to public. While the account had more than 3,000 posts earlier Wednesday, it had only three on Thursday. One of the posts included a gif of someone clapping, and tagged Feinberg.
The account also posted an image of President Donald Trump and Hillary Clinton, writing, "Integrity is the lifeblood of democracy. Deceit is a poison in its veins."