US State Dept gets massively trolled over 'democratic values' Russian protest tweet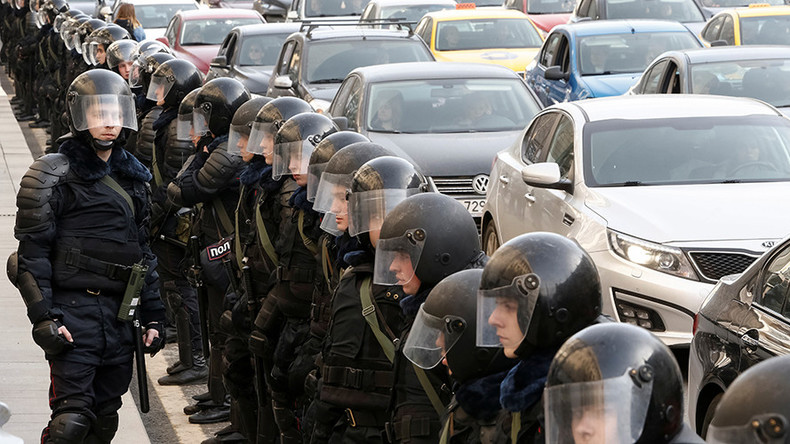 The US Department of State has been trolled for a tweet it posted condemning the detention of protesters at an unsanctioned rally in Moscow, with the agency accused of hypocrisy over its comments.
The State Department reacted to news that up to 500 protesters, including opposition activist Aleksey Navalny, had been arrested at the rally on Sunday by calling their detention an "affront to democratic values."
READ MORE: Navalny fined $350 for staging unauthorized rally, gets 15 days in jail for resisting arrest
Some 8,000 people protested the alleged corruption of Russian Prime Minister Dmitry Medvedev, which had been reported weeks earlier by Navalny.
Twitter users were quick to out the hypocrisy of the tweet, sharing powerful images of US protests where police forcibly held back or tackled demonstrators.
READ MORE: Unauthorized opposition protest was provocation, rally organizers lied to activists – Kremlin
People were quick to remind the State Department of the poor treatment of demonstrators at Black Lives Matter, Standing Rock and Occupy Wall Street protests.
Over 200 people, including journalists, were arrested in the US as protests broke out following Donald Trump's inauguration on January 20.
READ MORE: 'Outrage!' 6 journalists including RT reporter face 'inappropriate' rioting charges
Others pointed out America's questionable foreign policy record, specifically referencing a recent series of US airstrikes on Mosul, Iraq, which have reportedly killed up to 200 civilians.
READ MORE: US confirms airstrike at site in Mosul where dozens of civilian casualties were reported
The tweet left other social media users convinced an unauthorized party had taken control of the department's Twitter account.