Rectum reconstruction required after bull impales matador (VIDEO, PHOTOS)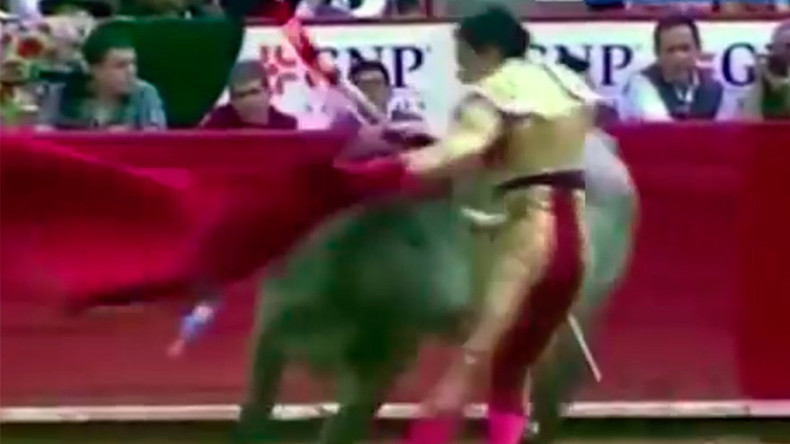 A Mexican matador failed to take the bull by the horns instead finding himself gored in a very uncomfortable place. Antonio Romero required reconstructive rectum surgery after an incident which saw a 12-inch bull horn pierce him from behind.
Romero was hospitalized after the bullfight turned against him in Mexico City. Knocked off his feet the bull ran at him from behind, lifting his body off the ground as he struck.
His doctor Rafael Vázquez Bayod told Mexican media that the horn penetrated Romero "about 30 centimeters" (11.8 inches) in his rectum.
In a statement, Vázquez said Romero underwent surgery twice in an attempt to reconstruct his perirectal area.
Vázquez said that barring no complications a full recovery is expected after several months. His recovery would be slow, expected to last several months, he said.
Romero shared an image of himself lying in a hospital bed giving a thumbs-up sign. "I am thankful for the displays of affection, it's an extra motivation," he said.
Earlier in the month, a one-eyed matador in Spain received serious injuries after a bull got the better of him. Despite his injuries, he managed to kill the animal.
READ MORE: One-eyed matador gored in grizzly bullfight, gets up to make the kill (GRAPHIC VIDEO)