One-eyed matador gored in grizzly bullfight, gets up to make the kill (GRAPHIC VIDEO)
Published time: 14 Mar, 2017 17:52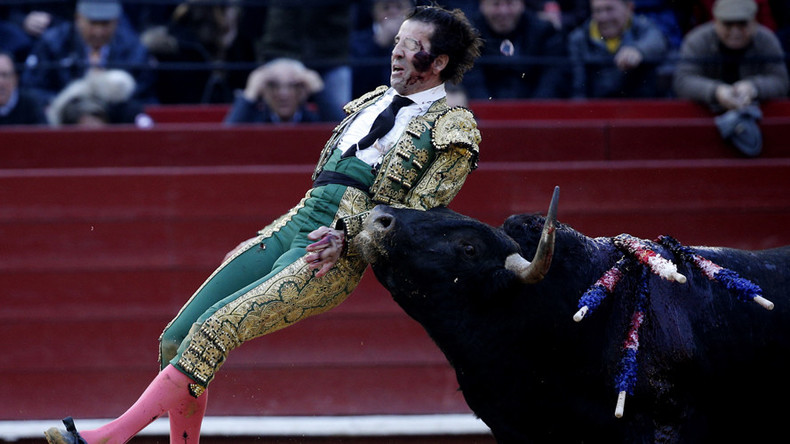 A seemingly accident-prone one-eyed matador, Juan Jose Padilla, is recovering in hospital after suffering yet another serious injury while fighting a bull in the Spanish city of Valencia.
Padilla has nearly lost his life on several occasions and Sunday's outing was another near-death encounter for the 43 year old. He was gored in the thigh and chest by the half-ton beast, leaving him with a punctured lung. His glass eye – the result of a previous bullfighting incident – was also knocked out of his head.
He got the better of the bull on this occasion, however. Stumbling to his feet, he killed the animal and cut off one of its ears before staggering out of the arena. The privilege of being allowed to remove the ear is bestowed on a matador whom the crowd consider to have performed particularly well.
READ MORE: Spanish bullfighter gored to death in ring first time in over 20 years
Apparently unphased by the incident, Padilla hopes to be back battling bulls within months. "It's more than lucky, it's a miracle: Once again the hand of God was on me," he told Spanish agency EFe, as cited by The Local. "This was a bad one, but I'll be back."
In 2001, Padilla escaped with his life following a goring to the throat. Ten years later he was tossed into the air like a ragdoll by a bull whose horns pierced his skull and did severe damage to his face, leaving him deaf in one ear and earning him the nickname 'El Pirata' (The Pirate) following an operation to remove his left eye.
READ MORE: Out flanked: Angry bull gores matador in butt during Spanish fight (VIDEO)
In 2012, he escaped serious injury having been thrown through the air by an enraged bull and in October of last year, he was again gored in his left eye socket, miraculously escaping with little more than a concussion.