DARPA 'Gremlins' drones step closer to completion (VIDEO)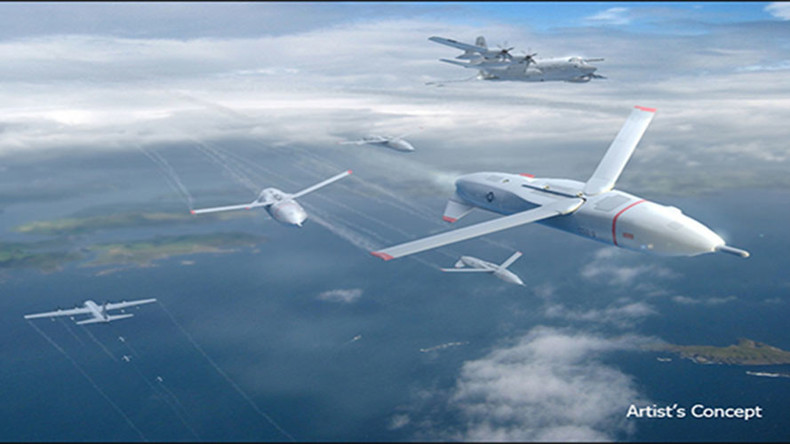 The "Gremlins" drone program created by the US government will enter into its second stage of development, almost a year after the project to boost military capabilities and bring chaos to adversaries began.
The Defense Advanced Research Projects Agency (DARPA) concept envisions volleys of unmanned, reusable drones being launched from "aircraft carriers in the sky" toward enemy targets.
The initiative was announced in March 2016 with teams from Lockheed Martin, Dynetics and General Atomics Aeronautical Systems attached.
READ MORE: DARPA researching camera technology that can see around walls
After feasibility studies, DARPA says it will continue with the idea and next complete "preliminary designs." After Gremlins Phase 2, full-scale flight demonstrations could take place, likely to be in 2019, the agency said in a statement.
The unmanned air systems (UAS) drones, named after the Gremlins, fictitious imps said to sabotage aircraft, would be given a mixture of payloads and could potentially be weaponized. Alternatively, the system could be used for surveillance purposes.
A DARPA concept video shows how UAS drones can be used to enter contested airspace without putting human personnel at risk.
In the clip, groups of drones released from a "mothership" can be seen to relay geographical information to a base operator and even destroy enemy vehicles.
"We're aiming in Phase 2 to mature two system concepts to enable 'aircraft carriers in the sky' using air-recoverable UASs that could carry various payloads," DARPA program manager Scott Wierzbanowski said in a statement.
He added that it could "greatly extend the range, flexibility and affordability of UAS operations for the US military."
READ MORE: DARPA looks at 'drone defense' for convoys
If completed, the Gremlins program could see swarms of drones being released by large US military aircraft such as bombers or transport planes.
Mark Miller, Gremlins program manager at Dynetics International, said he hopes the concept will soon be incorporated into the US military's arsenal. "Successful execution of Gremlins would lay the groundwork for the future use of swarming, recoverable systems for multiple missions," Miller said.
You can share this story on social media: