DARPA looks at 'drone defense' for convoys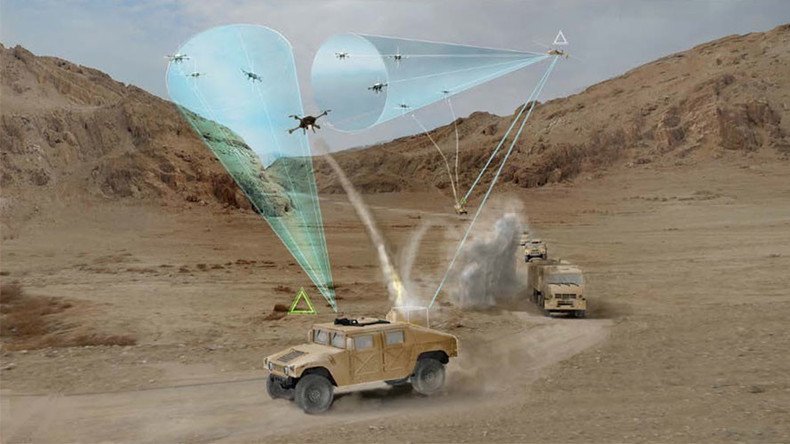 The US military's research agency has opened a bid for weapons systems that could defend convoys of land vehicles or small ships from attacks by drone swarms, most likely driven by recent experiences fighting against ISIS in Iraq.
Islamic State (IS, formerly ISIS/ISIL) fighters have mounted weapons on cheap, off-the-shelf drones on several occasions over the past few months, using them against US-backed Iraqi troops pushing towards Mosul. Although there have been no reports of a drone attack on a convoy of land vehicles yet, the US Defense Advanced Research Projects Agency (DARPA) seems to be thinking ahead.
On Monday, DARPA announced it had released a solicitation for what it calls the "Mobile Force Protection" (MFP) program, a project that could be worth up to $63 million. The initial phase focuses on developing "enabling technologies" and should be worth $3 million for each contractor, the announcement said.
The drone defense system needs to serve "military or civilian" needs in both "homeland or abroad."
The project (DARPA-PS-17-01) seeks to develop a system that can defeat an attack by a multitude of "self-guided, small unmanned aerial systems (UAS)" on a moving target such as a convoy of vehicles of patrol boats. Specifically, the system needs to be able to deal with fixed-wing or rotor drones that weigh less than 200 pounds (90 kilos) apiece.
Making a weapons system capable of defeating the drones while staying small enough to be mounted on "tactical vehicles and vessels" is what makes the request a tall order.
DARPA said it does not plan to consider lasers – "high-power direct energy systems" – or high-caliber guns "with uncontrolled projectile trajectories that result in high-energy fragments," or live animals. Anything too big, too heavy or too power-demanding to fit onto a Humvee or a 25-foot Coast Guard boat will be ruled out as well.
The final requirement is that any systems must use the US Army's MAFIA (Maneuver Aviation and Fires Integration Application) operating system, to enable plug-and-play functionality.
"DARPA will consider only system prototypes that incorporate a MAFIA architecture," the solicitation said.
If phase one of the project results in viable technology, DARPA is willing to fund the next phases of research that would culminate in a prototype demonstration, the agency said.
You can share this story on social media: