Amazon Echo shuts down over CIA #Vault7 connection query (VIDEO)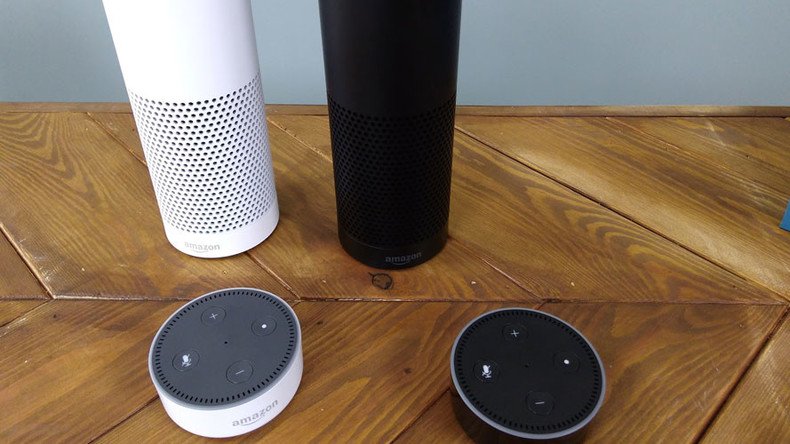 The WikiLeaks 'Vault 7' data dump allegedly detailing CIA hacking tactics has again thrown the privacy of electronic devices into focus. One viral video showing an Amazon Echo refusing to confirm a link to the US spy agency is summing up people's fears.
On Tuesday, Wikileaks unexpectedly released 8,761 documents claiming to reveal "CIA hacking tools" such as everyday smart televisions and mobile devices being used surreptitiously to gather audio and information.
READ MORE: WikiLeaks says just 1% of #Vault7 covert documents released so far
Ubiquitous products by companies such as the Apple iPhone, Google's Android and Samsung TVs are mentioned in the documents, while Amazon's Kindle is referred to in a section about code templates.
Amazon's Echo, a voice activated smart home device, does not appear in the leaked information. However, a video posted to Twitter appearing to show the personnel device shirking a simple question about whether it has links to the CIA is provoking debate and humor online.
The video comes from the Twitter page of Local Business Consulting, and its administrator claims the footage is the real deal.
READ MORE: The walls have ears: Warrant granted for Amazon Echo recordings
The person in the 43-second clip asks: "Alexa, are you connected to the CIA?". After giving assurances that it always tries to tell the truth, the Amazon device shuts down twice when probed further about the CIA.
Debate has followed since the video was posted on Wednesday, with some people questioning its authenticity.
It's not the first time the eavesdropping capabilities of Amazon smart home and other 'Internet of Things' devices have hit the headlines.
Data collected by the Amazon Echo has bizarrely become the focus of a 2015 murder case, with the company recently agreeing to hand over recordings to authorities which may yield answers over the death of an Arkansas man.
'Chain reaction': Smart appliances vulnerable to remote hacking (VIDEO)
Amazon had previously declined to provide audio recordings from an Amazon Echo taken from the scene of the killing to police in Bentonville, Arkansas. The subpoena requesting the information stated that the company "objects to overbroad or otherwise inappropriate demands as a matter of course."
You can share this story on social media: