#MakeHerSmile: Celebrities take to Twitter to congratulate women on #8March
Published time: 8 Mar, 2017 16:05
Edited time: 8 Mar, 2017 21:18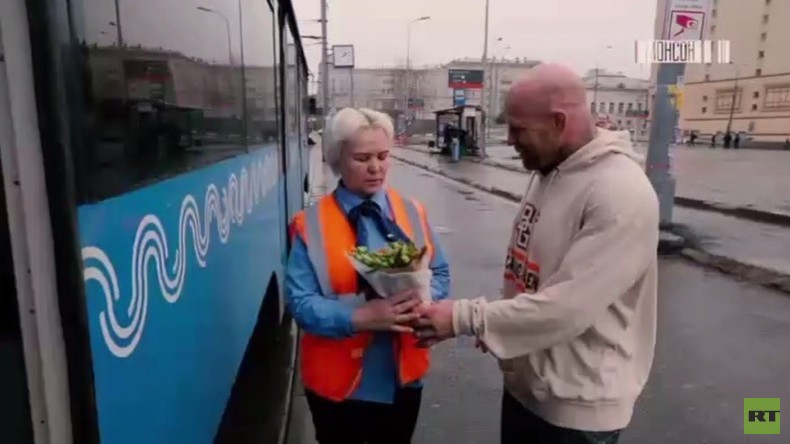 NBA legend Dennis Rodman, wrestler and actor Hulk Hogan, veteran MMA fighter Jeff Monson, and many other men, both prominent and ordinary, have rushed to Twitter to make women smile on International Women's Day.
Be it their grandmothers, mothers, or daughters, or simply all women around the world, men shared their love and affection for the fairer sex using social media and the hashtag #makehersmile, along with photos of the subjects of the occasion with wide smiles on their faces and bunches of flowers in their hands.
READ MORE: Robots, policemen & pilots get creative to mark Int'l Women's Day in Russia (VIDEOS)
RT has collected some of the most heart-warming greetings that have surely lightened up the day of these men's nearest and dearest, and women across the world.
Jeff Monson was seen walking in Moscow, giving out flowers to women passing by.
RT's Max Keiser, National Assembly of France member Nicolas Dhuicq, political and social commentator Mo Ansar, and Austrian politician Johann Gudenus were also among those who shared their festive mood on Twitter and Facebook.
From Russia with love
Meanwhile, Russian men have been giving roses to women in several cities across the world on March 8.
Young men wearing white jackets with the red '8' and the caption "From Russia with love" were completely in line with the #makehersmile hashtag, with groups of young women seen smiling and laughing out loud.
In Berlin, volunteers have been handing out tulips to all women who happened to walk by Alexanderplatz in the city center.
"This is all because of March 8, the International Women's Day. It's quite popular in Russia, it's less popular here in Germany. So this is to make German ladies a bit happier. Just to give them flowers and remind them about Russian culture and good traditions," one of the volunteers said.
"It makes me feel good. It's nice," a young woman told RT's Peter Oliver in Berlin. "We're very happy right now," her friend added, beaming. "Actually, it's surprising, because in Berlin we don't have activities like this. We feel good!"
"The sun is shining, I get some flowers… The day couldn't have started better!" another woman said, smiling.
So everyone loved it, but it turns out some didn't know that the holiday even existed – which brings us to the streets of New York.
"I think it's a nice idea," a young female New Yorker said, but added that she was unaware of the holiday – as was the next respondent, who said, "Well, I didn't know about it."
"I think it's great, thank you so much," a woman said, adding, "I never go outside without wearing make-up, but I was going to the gym. Thank you." Well, dear lady, we think you look fantastic!
READ MORE: Life-size statue of girl stares down Wall Street's bull on Women's Day
In Paris unaware women received elegant bouquets of petite pink roses. The ladies rushed to make selfies with their unexpected spring presents with the Eiffel Tower and giant air-balloon saying, "From Russia With Love" on the background.
"This is awesome. Love Russia," one of the women said.
"I wasn't expecting this at all. This never happened before. It's a really sweet gesture," another woman said.
Classic red roses have been prepared for British ladies outside the Palace of Westminster in London.
"I'm touched. I'm getting teary-eyed. It's so beautiful. It's lovely knowing that people across the world support women," a woman said.
"I'm surprised. I'm overwhelmed and I just feel supported as a woman, as an American, as an Asian, as a human."
Another woman couldn't refrain from praising the flash mob as well: "Fantastic. Absolutely gorgeous gesture. Lovely acknowledgement of the importance of women in today's society."
In Rome, the holiday assumed a truly Russian vibe with volunteers giving women mimosas – bright yellow flowers very popular in Russia for the occasion.