'Hateful and unconstitutional': Trump's revised travel ban greeted with anger again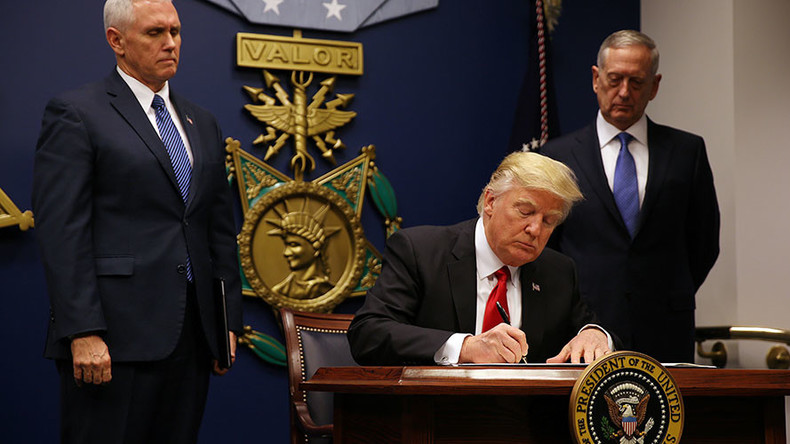 President Donald Trump's new executive order banning residents of six countries from entering the US has been met with criticism as people question the countries targeted and claim there is little difference from the original ban.
The new order exempts Iraq from the travel ban, but Iran, Libya, Syria, Sudan, Somalia and Yemen remain on the list of offending countries. Visas will not be issued to anyone from those countries for 90 days, and refugee admissions have been halted for four months.
READ MORE:Trump issues new travel ban for 6 Muslim-majority countries, excludes Iraq
Trump was forced to alter the original travel ban after it was challenged in US courts. For many, the altered ban offers no comfort and remains "discriminatory."
While the new order removed Iraq from the list of banned countries, journalist Michael Tracey noted that an example within the order points to two Iraqi refugees who were arrested on terrorism-related offences in the US as part of the justification for the order.
The order explains that while parts of Iraq are a combat zone, with ISIS strongholds in the north and central regions, the "close cooperative relationship" between the US and the Iraqi government is enough to "justify different treatment" for the country.
READ MORE: Love it or leave: Sessions warns DOJ as Democrats push back on new travel ban
People questioned the justification for the ban, pointing to the US's role in creating refugees and terrorists. Others queried why the six countries had been targeted over others, with social media users pointing to business interests as a possible explanation.
Unlike the administration's first attempt at introducing the ban, Trump signed the order away from the media and has not yet tweeted about it. White House press secretary Sean Spicer was criticized for holding an off-camera press briefing to discuss the executive order, as well as Trump's claims that President Barack Obama wiretapped him during the election.
Spicer told reporters that Trump met with Attorney General Jeff Sessions, Secretary of Homeland Security John Kelly and advisor Stephen Miller over the weekend. "They made a determination that it was best to pursue this track," Spicer said. "We maintain that the order was fully lawful. It was discussed with the president Saturday and he made the decision [to revoke the original executive order]."