Women should be paid less as they're 'smaller, weaker, less clever' – Polish MEP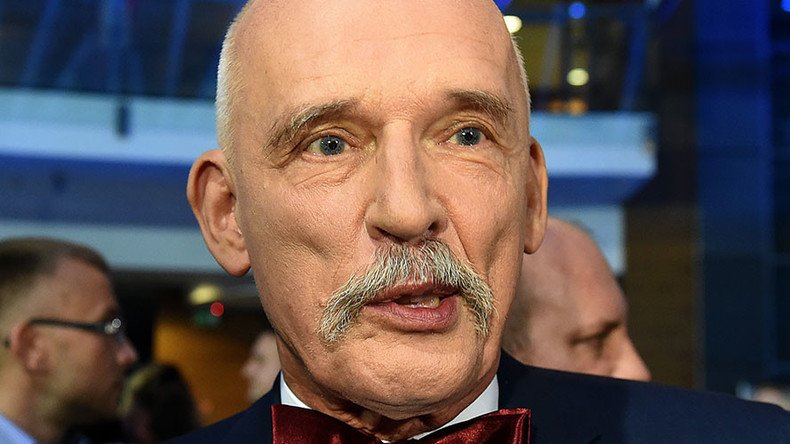 Since women are "smaller, weaker and less intelligent" than men they rightfully should earn less, a controversial Polish member of the European Parliament has claimed during a debate on gender pay gap, sparking an immediate and fierce backlash.
To support his argument, Janusz Korwin-Mikke, a right-wing politician who represents the remote region of Silesia, claimed that there are no women among the world's top chess players. Women according to him are also much weaker when it comes to physics.
"Of course women must earn less than men because they are weaker, they are smaller and they are less intelligent, they must earn less, that's all," stated the 74-year-old MEP.
Other members of the chamber immediately condemned his statements, with Spanish politician Iratxe Garcia-Perez wondering if that meant she "shouldn't have the right to be here as a member of parliament."
"And I know that it hurts you and bothers you that today women can sit in the House to represent citizens with the same rights as you. I am here to defend all European women from men like you," she added.
MEP for Malta Roberta Metsola criticized the remark as not only offensive to women, but "betraying the values of the entire EU." Another Malta MEP, Miriam Dalli, described Korwin-Mikke's comments as "detrimental to society as a whole."
European bureaucrats take the issue of gender equality very seriously, and seeks to close the remaining gender inequality gaps. The goal, however, is quite far away, and if current rates are a pointer, true gender equality might only be achieved in 70 years, according to the EU's Commissioner for Justice, Consumers and Gender Equality Vera Jourova. Equal sharing of "household tasks," however, is expected to be achieved in 40 years from now.
Korwin-Mikke's misogynist remarks prompted a swift investigation by the European Parliament which could result in sanctions such as a reprimand, penalty or a temporary suspension. The Polish MEP is well known for his sexist views, as he previously denied women the right to vote, claiming they "want to be led by men."
It is not the first time Korwin-Mikke has sparked outrage in the EP chamber with his radical and controversial remarks. In July 2015, he was suspended from parliament after giving a Nazi salute and saying "ein volk, ein Reich, ein ticket," while mocking the idea to produce a uniform EU transport ticket.
Korwin-Mikke was also harshly criticized by his colleagues and ultimately suspended for 10 days from parliamentary activities and fined €3,062 ($3200) after giving a speech on migrants, describing them as "human garbage," unwilling to work and only interested in receiving welfare.
You can share this story on social media: