Poland 'ashamed and sorry' for MEP's Nazi salute to EU lawmakers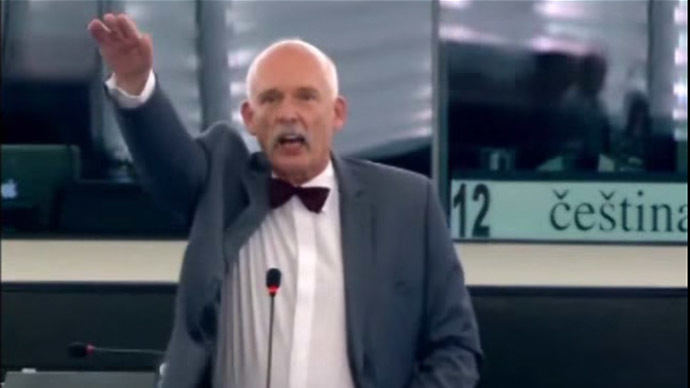 Poland has issued an official apology for its right-wing MEP, who, in an ill-considered attempt to compare the EU policies to those of Nazi Germany, referenced an infamous Nazi slogan, "Ein Volk, ein Reich, ein Fuehrer," in front of the EU Parliament.
Addressing the EU Parliament earlier this week during the debate on the German-led motion to introduce integrated ticketing for travel across EU borders, Janusz Korwin-Mikke, leader of the Coalition of Polish Republic's Renewal Freedom and Hope party, made a Nazi salute as a sign of objection to the German proposal.
Addressing the chamber in English, he lectured the EU lawmakers about diversity, pointing out that "all the time if there is voting, we are voting for the unification of everything."
Then, raising his hand in the Nazi salute he said: "This time it is, Ein Reich, ein Volk, ein Ticket," in a play of words referring to "Ein Volk, ein Reich, ein Fuehrer" (One People, one Empire, one Leader).
The incident caused an uproar in Polish and European media, forcing Poland's Foreign Minister to apologize in his country's name for the right-wing Polish MEP.
"We all are ashamed of such behaviour and we apologize to Europe, the European parliament, sorry [also] to the voters," Grzegorz Schetyna said in a statement on TVN24
Following the scandal, the European parliament is looking at a potentially holding Korwin-Mikke responsible for his behavior.
"We have already launched a procedure to take sanctions which are available to us. A decision is likely to be taken during the next plenary session. Those measures range from the loss of a daily expense[s] allowances, to restrictions to attend EP plenary sessions," a spokesperson for the EP President Martin Schulz told Newsweek.
Polish media even suggested holding Korwin-Mikke criminally responsible for violating Art.256 par.1 of the Criminal Code which prohibits the "public promotion of a fascist or another totalitarian system" that "incites hatred based on national, ethnic, racial, religious differences." Violators of this article are subject to a fine and/or imprisonment of up to two years.
READ MORE: Heil Tolerance! Nazi salute OK in Switzerland…if it's not political
"We can only be ashamed that we chose such a man as a representative of our country to Strasbourg," social philosopher Jerzy Bukowski wrote in an opinion post in wPolityce.
German media, particularly Die Welt newspaper called the Polish MEP behavior "scandalous."
According to the investigation carried out by TVN24, Poland's 24-hour news channel, it turned out that Korwin-Mikke had consulted a fellow MEP – German satirists and founder of Die Partei, Martin Sonneborn.
According to Sonneborn's Facebook post, before taking to the floor, the Polish politician asked him "politely" in English the German word for a ticket.
Moments later, Sonneborn heard the Pole uttering the slogan "Ein Reich, ein Volk, ein Ticket!" as he raised his hand in a characteristic gesture of a Nazi.
Zwischenbericht aus Straßburg (288)Heute im Plenum. Es geht um die Einführung eines europaweit einheitlichen...Posted by Martin Sonneborn on Tuesday, July 7, 2015
In his defense following the scandal Korwin-Mikke told TVN24 that his goal was to show that many of the European Union's activities and economic policies in particular are of "Nazi origin."
"A single currency, unifying everything, Hitler even promised to eliminate smoking," Korwin-Mikke said.
You can share this story on social media: