Netanyahu depicted as Hitler by Sydney protesters during historic Australia trip (PHOTOS)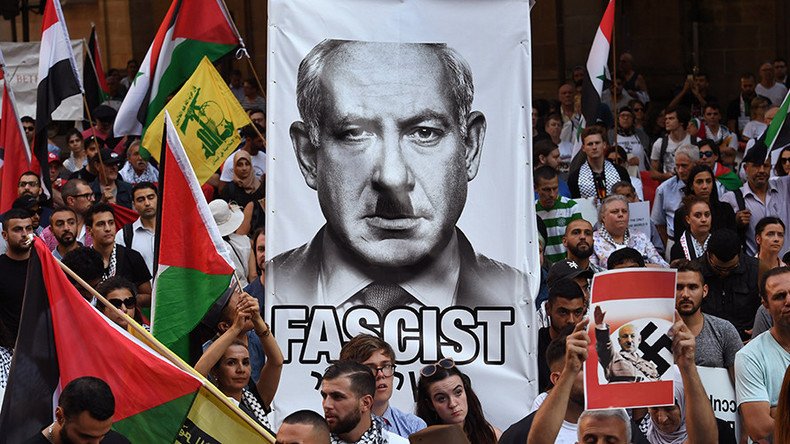 Israeli Prime Minister Benjamin Netanyahu was met by pro-Palestinian protesters carrying a poster depicting him as Adolf Hitler during his official state visit to Australia.
The visit marks the first from an acting Israeli premier to Australia. Around 650 pro-Palestinian demonstrators gathered in Sydney on Thursday to protest the visit, carrying a poster of Netanyahu with a Hitler-esque moustache and labeled 'Fascist'.
Others in the crowd carried placards branding Netanyahu a 'war criminal' and 'terrorist', according to the Jerusalem Post, and lambasted the Australian government's strong ties with Israel.
READ MORE: Palestinians support Trump's call for Israeli settlements 'pullback', wary of 'one state' idea
Police stopped the protesters before they made their way to Netanyahu's hotel in central Sydney, reports AFP.
Netanyahu's four-day trip began on Wednesday when he arrived in Australia to a warm welcome from Prime Minister, Malcolm Turnbull, who commended relations between the two countries.
"We have so much in common – shared values, democracy, freedom, the rule of law," said Turnbull said at a press conference. "Two great democracies, one very small in area, one vast, but each of us big-hearted, generous, committed to freedom."
"Prime minister, you are so welcome here in Australia," he said to Netanyahu.
READ MORE: Trump asks Netanyahu to hold off on settlements, avoids endorsing two-state solution
Upon his arrival, Netanyahu commended Australia for being a close ally of Israel and recognized their countries' historical ties.
"We're celebrating 100 years of friendship between Australia and Israel… this visit will enable us to bring our countries even closer," he said. "I always remember, it was Australian light horse that liberated Beersheba, an old, old city in our history. We have been friends — extraordinary friends — ever since."
You can share this story on social media: