Make America laugh again: Hilarious #TinyTrumps meme trends online (PHOTOS)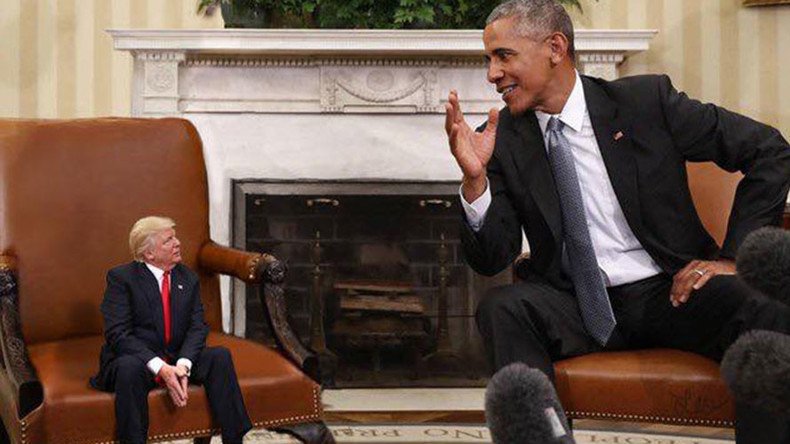 President Donald Trump's preoccupation with size, whether it's his hands or otherwise, has inspired what could be the funniest Trump meme yet. 'Tiny Trumps' have been replacing the original in hundreds of images across the web.
A 'Tiny Trumps' subreddit was created Thursday, delivering miniature Trumps for the world's enjoyment, racking up more than 25,000 followers in less than 48 hours.
The genius collection is thought to have started with this image of a 2 ft Trump walking with the Secret Service.
From meetings with world leaders, to shots with First Lady Melania, the Tiny Trumps artists have outdone themselves.
Many of the images feature Trump and Barack Obama, with one of the most popular showing Obama helping Trump with his tie, while another shows Obama hold tiny Trump in his arms so that he can get in on a selfie.
Numerous world leaders are also imagined meeting the the tiny POTUS, from Canadian Prime Minister Justin Trudeau to Russian President Vladimir Putin and Shinzo Abe, the Japanese prime minister.
In another creation, Tiny Trump is watched over by Vice President Mike Pence and chief of staff Reince Priebus as he tries to color within the lines, an apple juice box serving to further dwarf the president.
Many of Trump's moments on the campaign trail have been revived, with some of the best taken from the primary and presidential debates.
Tiny Trump doesn't let his diminutive stature get in the way of important White House business, as many of the photographs show.
Trump's latest Time cover was also edited to reflect the tiny Trump trend.
READ MORE: 'Bring the YUGE-ness': Adult sex site wants Trump porn star with small hands for parody (VIDEO)
Trump is said to have a slight complex about size. At a Republican debate last March, the then-businessman defended the size of his hands, saying it was the first time anyone had questioned them, adding there was "no problem" with any of his other appendages.
READ MORE: PM Theresa May mocks Trump's 'small hands' at Tory fundraiser
However, the president's preoccupation with the size of his hands goes back decades, according to Vanity Fair publisher Graydon Carter, who claims Trump continued to send photos of himself with his hands circled ever since Carter referred to him as a "short-fingered vulgarian" in the 1980s.
You can share this story on social media: