'Bring the YUGE-ness': Adult sex site wants Trump porn star with small hands for parody (VIDEO)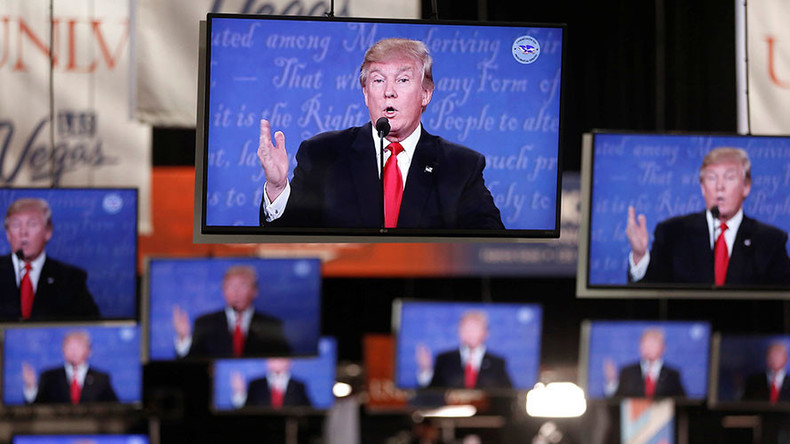 An adult website planning a porn parody series of President Donald Trump is searching for a leading man who can fill the criteria of having "small hands," "a unique hairstyle," and no problems "down there," if you know what we mean.
Xhamster, a website that last got political when it blocked users in North Carolina last year over a "discriminatory" LGBT bill, is in the midst of running a competition to find their own porno commander-in-chief.
The real Trump actually had in a non-sexual cameo for a Playboy adult movie back in 2000, but Xhamster is seeking the next best thing ‒ a presidential lookalike.
A casting call notice by Xhamster states that the right candidate would have a "unique hairstyle that closely matches that of the 45th President of the United States."
"Additional qualifications include the ability to make incredible deals, and bring the HUGE-ness (or "YUGE" in the parlance of Trump)," it said.
"Optional characteristics of this performer include: having small hands, 'not having a problem, down there,' and an affinity for walls," the notice added.
The porn site, which claims to be one of the largest of its kind in the world, is encouraging people to prove they fit the Trump build by sending in a "non-adult oriented video" of themselves dressed like the Republican president.
"There is nothing more that the American public needs that quality adult content parodies to help them understand the ever shifting landscape of their Executive Branch of government," an Xhamster spokesperson said.
The suitable candidate will be chosen by a popular vote, with the winner expected to perform in a four-year parody series.
Xhamster says it also plans to cast individuals as Trump's two ex-wives and as his Cabinet members.
Bizarrely, Trump's name appears to have been bandied about a lot by the porn industry in the time since he took a leap into politics.
Last year, adult entertainment giant PornHub released statistics showing that Trump searches were 144 percent greater than those for his rival for the White House, Hillary Clinton.
Trump isn't the first politician to be the subject of a porn parody, either. Last year a female "doppelganger" of Senator Ted Cruz (R-Texas) accepted $10,000 to star in a sex tape about the Canadian-born politician.
You can share this story on social media: