'Never apologize for publishing truth': Assange calls out Trump on anti-leak & fake news stance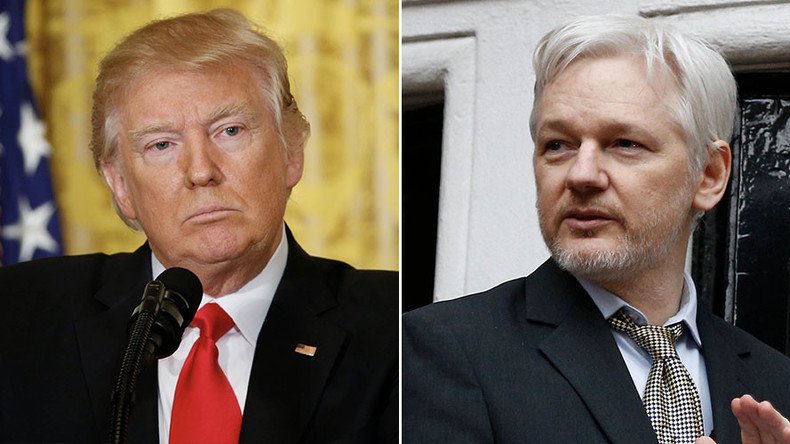 Having been accused of helping to get Donald Trump elected, and even being praised by the US president himself for the Hillary Clinton leaks, WikiLeaks' founder has criticized Trump's crusade against "fake news" and "low-life leakers."
"The press should never appologise [sic] for publishing true information," Julian Assange tweeted.
The message was in response to a Trump tweet sent out early on Thursday morning, in which he wrote: "Leaking, and even illegal classified leaking, has been a big problem in Washington for years. Failing @nytimes (and others) must apologize!"
On Tuesday, the New York Times published a story - citing "four current and former American officials," whose names were not given - which claimed that "members of Donald J. Trump's 2016 presidential campaign and other Trump associates had repeated contacts with senior Russian intelligence officials in the year before the election."
During a briefing in Washington on Thursday afternoon, Trump said the "leaks are real," but "the news is fake." The remarks created a bubble of confusion online.
"The failing New York Times wrote a big, long front-page story yesterday and it was very much discredited, as you know. It's a joke," explained Trump, who insisted that he had "nothing to do with Russia."
During the conference, Trump promised to "aggressively go" after "criminal leaks," and "put [his] people" into government agencies to stop the practice.
"FAKE NEWS media, which makes up stories and "sources," is far more effective than the discredited Democrats - but they are fading fast!" the US leader added on Twitter.
In October last year, Trump said that he "loved WikiLeaks," the website that made its name disclosing the US diplomatic cables in 2010, though, at the time, Trump was specifically referring to the revelations of the behind-the-scenes machinations in the Democratic Party.
While opponents accused Assange of virtually endorsing Trump by leaking the sensitive data which damaged Hillary Clinton – perhaps at the behest of Russia – the Australian whistleblower himself has never thrown his support behind the current US leader.
In fact, during a January interview from the Ecuadorian embassy, where Assange has been holed up since 2012, he predicted that WikiLeaks would have no allies in the White House, saying that "the Donald Trump administration will form its own establishment and enter into a power-sharing relationship with the existing powers in DC. No system of authority likes those who undermine its authority."
You can share this story on social media: