6 of The Donald's biggest Twitter spats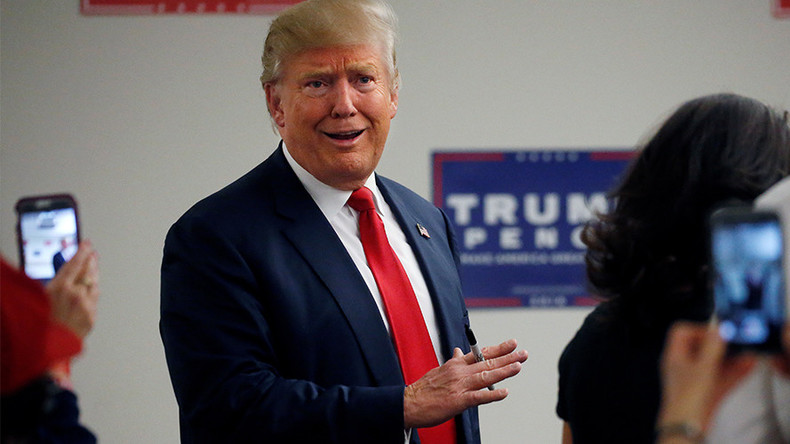 Donald Trump's Twitter account is as famous as the man himself. Never one to hold back, The Donald has repeatedly picked fights with various personalities and even winning the presidency hasn't stopped his 140 character rants.
Trump's Twitter beefs have been the source of much trouble and strife for his rivals and allies alike, and whether this trend will continue once he takes office isn't yet clear. As his inauguration looms, we look back at some of his biggest freakouts on the social media network.
1. 'Terrible Megyn Kelly'
Trump's Twitter attacks against Fox News host Megyn Kelly have been ongoing since 2015 after Kelly asked Trump a question about his treatment of women during a presidential debate.
"You've called women you don't like fat pigs, dogs, slobs and disgusting animals," Kelly said to Trump. After the debate, the then presidential hopeful said Kelly "really bombed tonight."
Since then, the back and forth has continued, with Trump retweeting a comment about Kelly in which she was called a "bimbo," as well as saying she was "so average in so many ways!"
2. 'The failing media'
Kelly is by no means the only journalist Trump has taken aim at. In fact, the president-elect has blasted a number of media outlets, many of whom he says are biased against him, which is why he uses Twitter to fight back.
Trump has used his Twitter account to deliver scathing reviews of the likes of CNN, who he described as "failing,""over-rated," and "fake news," while describing the network's Jeff Zeleny as a "bad reporter."
NBC has also felt Trump's Twitter tantrums, saying the outlet "can't get much worse," while the billionaire claimed the New York Times's number of subscribers dropped "because of their very poor and highly inaccurate coverage of the 'Trump phenomena'."
READ MORE:Vanity Un-Fair? Trump attacks magazine over review of his restaurant
3. 'True loser Rosie O'Donnell'
Rosie O'Donnell has been a target of Trump's Twitter hate long before he was a presidential candidate. O'Donnell said in 2006 that Trump was not a "self-made man" but a "snake-oil salesman on Little House on the Prairie."
Trump thrashed O'Donnell by bashing her appearance and making personal comments about her relationship and criticized her career at regular intervals over the past few years, having branded her as "disgusting, both inside and out… she's a slob."
4. 'All talk, no action John Lewis'
After civil rights activist Rep. John Lewis commented that he does not consider the president-elect "a legitimate president," Trump hit back on Twitter.
Employing his usual tactic of branding his foes "failing" or "overrated," Trump called on Lewis to fix his district, which he said was "in horrible shape and falling apart."
Trump's timing wasn't ideal, as he chose Martin Luther King weekend to attack the civil rights hero.
5. 'Lyin Ted Cruz'
Before Trump was selected as the Republican presidential nominee, he had 17 main rivals but it was Ted Cruz in particular that seemed to annoy Trump the most.
During the Republican primaries, the two were frequently at loggerheads on screen and off, with Trump often referring to the Texas Senator as "Lyin' Ted Cruz."
In March 2016, however, Trump took things to another level, retweeting a rather unflattering photo of Cruz's wife, Heidi, alongside a picture of his wife, Melania.
Cruz responded to the post by telling Trump that "real men don't attack women."
Trump also took aim at Cruz's religion during the campaign, questioning how strong his faith could be if he was "so dishonest."
6. 'Not funny Saturday Night Live'
Although Trump has hosted SNL, it seems his attitude to the show has changed since the popular comedy show has began impersonating him.
Watching Alec Baldwin's Trump impression makes the president-elect "sad." He claimed the show was "totally biased, not funny" and that Baldwin's impression "can't get any worse."
READ MORE:'Build that swamp': Trump lashes out at 'unwatchable' Saturday Night Live
Despite dubbing the program "unwatchable," Trump just can't stop watching SNL and Baldwin, or offering his reviews on Twitter.
After complaining about the show being "biased," Baldwin's Foundation reminded Trump that the election was over. "There's no more equal time," he said. "Now u try 2 b Pres + ppl respond."
READ MORE:Donald Trump & Alec Baldwin in Twitter feud over latest SNL sketch (VIDEO)
You can share this story on social media: