'A slap in the face': US elites slam Manning's 'outrageous' impending release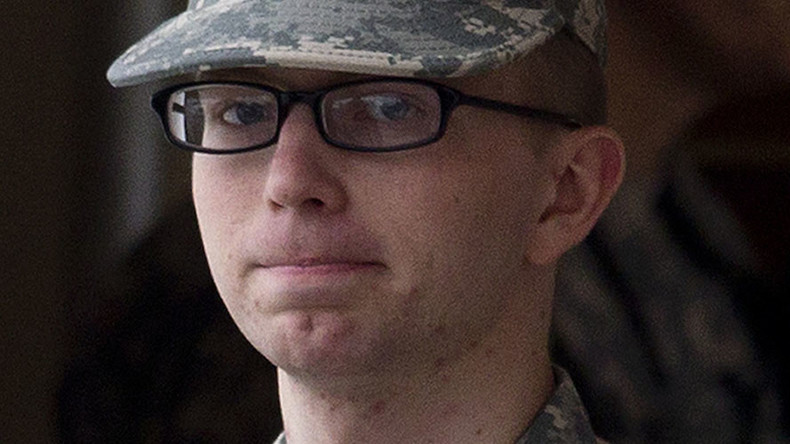 While many have welcomed President Barack Obama's commutation of Chelsea Manning's prison sentence, a number of US elites, particularly Republicans, have decried her impending release.
Instead of serving out her sentence until 2045, Manning will now be released on May 17.
House Speaker Paul Ryan (R-Wisconsin) called it "outrageous," as "Manning's treachery put American lives at risk."
READ MORE: Obama commutes much of Chelsea Manning's sentence
Ryan's sentiments were echoed by a number of fellow Republicans, with Senator Lindsey Graham of South Carolina also talking about lives that were "put at risk," and described Obama's decision as "a slap in the face" for President-elect Donald Trump.
The 2008 Republican presidential nominee Senator John McCain (R-Arizona), who chairs the Senate Armed Services Committee, said the commutation was "a grave mistake that will encourage further acts of espionage."
GOP members and ex-military officials called Manning a "traitor" for her whistleblowing.
We ought not treat a traitor like a martyr. My statement on the commutation of Chelsea Manning's prison sentence: https://t.co/8f0QMITSAQ

— Tom Cotton (@SenTomCotton) January 17, 2017
POTUS Obama trashing his own legacy on the way out the door

— JohnCornyn (@JohnCornyn) January 18, 2017
#Obama commutes the sentence
Of traitor #Manning

One more sorry reminder he doesn't care about our security

Just the leftist agenda

— Jim Hanson (@Uncle_Jimbo) January 17, 2017
Chelsea Manning intentionally leaked 251,287 US diplomatic cables & 482,832 Army reports. That's not whistle-blowing, that is treason.

— Rep. Paul Gosar, DDS (@RepGosar) January 17, 2017
I don't give a damn about Bradley Manning's "personal story." Or his confusion about his gender.

None of that matters. He is a traitor.

— Joe Walsh (@WalshFreedom) January 17, 2017
Message this sends to military/intelligence world: betraying your country is tolerable, so long as you do it with right political message.

— John Noonan (@noonanjo) January 17, 2017
Former New York Times columnist and current Fox News contributor Judith Miller was blasted on social media after kicking off the "How many people have died" chorus as a result of Manning's leaks following Tuesday's announcement. But she wasn't the only media personality to excoriate Manning.
READ MORE: Body count: Judith Miller slammed on Twitter for saying Manning leaks killed people
Obama's betrayal https://t.co/wpwQEkfA8h

— Mark R. Levin (@marklevinshow) January 18, 2017
No American who's ever taken a secrecy oath can look kindly on a narcissist traitor like Manning or Obama's inexplicable coddling of that.

— John Schindler (@20committee) January 18, 2017
"Chelsea Manning" my hind leg. The dudes name is Bradley. He's a traitor and will probably be a new face for @Target stores.

— Pastor Greg Locke (@pastorlocke) January 18, 2017
.@PeteHegseth: Manning is a traitor, but it's perfectly telling of Pres Obama to commute the sentence; he checks a lot of social boxes. pic.twitter.com/luMhOz5L6p

— FOX & friends (@foxandfriends) January 18, 2017
Serious Question: Is there any vet out there happy about what Obama did for convicted traitor Bradley Manning?

— Kurt Schlichter (@KurtSchlichter) January 18, 2017
Manning is a traitor & should never see the light of day for what he did. What is Obama doing??? He just validated Wikileaks.

— Tara Setmayer (@TaraSetmayer) January 17, 2017
READ MORE: 'This is awesome': Twitter reacts as Obama cuts Chelsea Manning's sentence
You can share this story on social media: