Anonymous warns Trump: 'You will regret the next 4 years'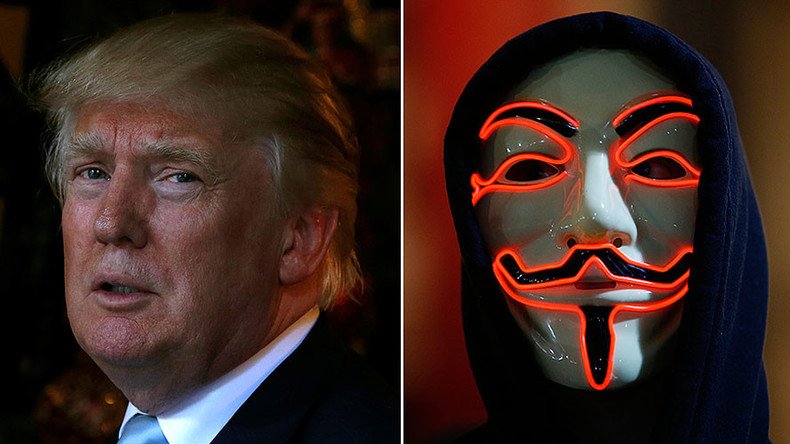 Donald Trump has been threatened by Anonymous on Twitter, with the hacktivist group accusing him of having links to organized crime and told him he will "regret the next 4 years."
In a series of tweets sent from @YourAnonCentral, a Twitter account associated with the group, to the president-elect, Anonymous said: "This isn't the 80's any longer, information doesn't vanish, it is all out there. You are going to regret the next 4 years."
The group also claimed he has "financial and personal ties with Russian mobsters, child traffickers, and money launderers."
"You are implicated in some really heavy sh*t," read the warning. "Roy [Cohn] and your daddy aren't here to protect you anymore," it continued, in an apparent reference to his friendship with lawyer Roy Cohn, who represented Trump during the '70s when he was accused of violating the Fair Housing Act.
The tweets from Anonymous came in response to a tweet from Trump in which he attacked CIA Director John Brennan, accusing him of being a "leaker of fake news."
Anonymous does not threaten to hack Trump directly, instead asking its followers to "Go get him."
"We gave you the resources, use them," it tweeted.
Anonymous also implied in one tweet that it suspects Trump of attempting to attack them with "bots," which generate automated responses, telling him not to waste his money.
The group previously attacked Trump before he became the Republican party's nominee, leaking information from his phone, including voice mails and telephone numbers in operation #OpWhiteRose.
READ MORE: 'You should have expected us': Anonymous leak Trump's public 'private data' in #OpWhiteRose
You can share this story on social media: