Christmas festival accidentally replaces 'Hail Mary' prayer with Tupac rap lyrics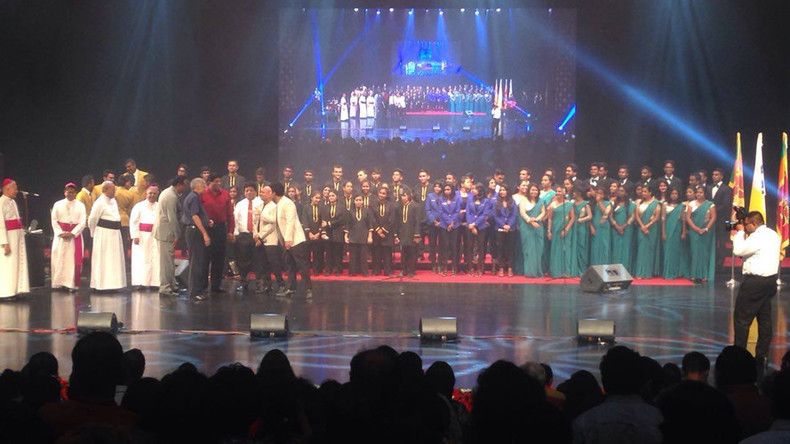 Christmas festivals are typically filled with holiday cheer and carols about peace on Earth. But a Sri Lankan charity event apparently missed the brief. Organizers replaced the words of a traditional Catholic prayer with Tupac lyrics about drugs and thugs.
The Joy to the World Festival in Colombo, Sri Lanka, a charity event aimed at raising money for poverty alleviation projects, described itself as a "festival of music for peace and harmony."
That description would have been perfectly suitable for a run-of-the-mill Christmas event which included traditional carols about peace, love and goodwill to all men.
READ MORE: Attack of the groans: Watch Chewbacca sing 'Silent Night' (VIDEO)
However, it soon became evident that the December 11 Christmas festival wasn't exactly traditional, as the words to the Hail Mary prayer had been replaced with the Tupac song by the same name.
"Revenge is like the sweetest joy next to getting pu**y," Tupac's version of 'Hail Mary' states.
The song at least addresses religion to some extent, stating "bow down, pray to God, hoping that he's listenin'."
However, that seemingly innocent lyric is then followed by something a bit less wholesome.
The mistake was posted online by Sri Lankan journalist Jithendra Antonio on December 14, who took a photo of the program and tweeted it to Pope Francis.
READ MORE: Merkel suggests Christmas carols, flute-playing in face of 'Islam concerns'
Catholic church spokesman Edmund Tilakaratne told AFP that the mistake was "a human error, a genuine printing mistake."
"The offending version of Hail Mary was never sung. Those who bought the souvenir (with the hymn sheets) were refunded," Tilakaratne added.
The pope has not publicly commented on the mistake, nor has he spoken on the late Tupac's pastime of "sellin' drugs" or 'livin' life as thugs."