Merkel suggests Christmas carols, flute-playing in face of 'Islam concerns'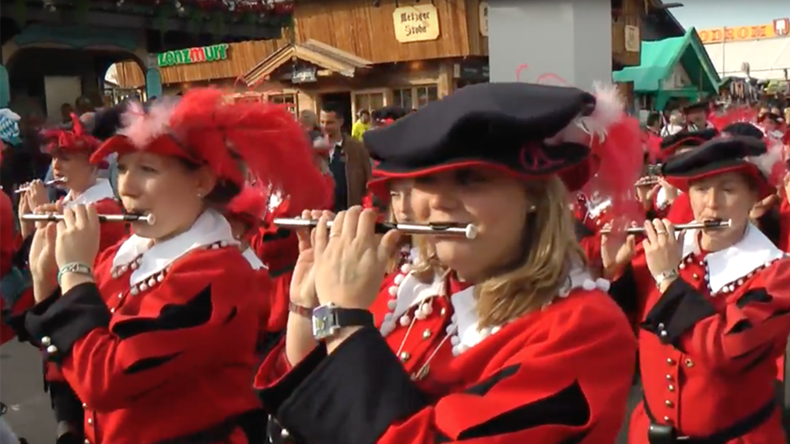 Chancellor Angela Merkel has admitted that she knows "there are concerns about Islam" in Germany and has a brand new idea as to how to address the issue: Germans should then stick to Christian traditions such as Christmas carols and playing the flute.
"We're the party with a C in its name," Merkel told a special party meeting of the Christian Democratic Union (CDU) in the state of Mecklenburg-Western Pomerania, where the chancellor's party gained fewer votes than anti-immigrant populist Alternative for Germany (AfD).
"How many Christmas carols do we still know? And how many of them will we pass to our children and grandchildren?" she then asked rhetorically, referring to her party agenda which commits itself to applying moderate Catholic values to politics and economy.
READ MORE: Merkel ally promotes 'German Islam' as means to integrate refugees into liberal EU society
Contrary to her previous remarks on Muslims being an integral part of the German community, Merkel said that "I know there are concerns about Islam," urging people to recall Christian culture in order to tackle the challenge.
"One should copy some [carols] music sheets and ask someone who can play flute [to assist]," she added.
When some people at the congress laughed at her words, she said that she is "quite serious" about her suggestion and added that "otherwise, we will lose a piece of our homeland."
However the proposal to play Pied Piper amid the growing anti-Muslim sentiments in Germany raised eyebrows with some of the politicians in the country.
"I think it's a great idea, it's great when people sing Christmas songs, and I also do it. But thinking that you can stop the Islamization of Germany by playing the flute is too much," Beatrix von Storch, Member of the European Parliament and deputy head of the far-right party Alternative for Germany said in an interview with Sputnik's German bureau.
"This advice comes from the representative of the party which has the letter C in its name which means Christian rather than Vitamin C," von Storch added.
Merkel's call to preserve traditional German values follows last month defeat of her Christian Democrat Union in the local elections held in a number of districts across the country.
The far-right, openly anti-Muslim AfD party has made significant gains in Germany's local elections weaken Merkel's chances of a fourth term in next year's federal elections. Merkel's biggest defeat was in Berlin, where AfD won 14.2 percent of the vote.
Angela Merkel also suffered a defeat in regional elections in her constituency of Mecklenburg-Vorpommern, with her CDU coming third behind the Social Democrats (SPD) and the rightwing populists AfD.
For the past 10 years, Mecklenburg-Western Pomerania has been governed in a "grand coalition" between the SPD and CDU, mirroring the current power structure at the federal level.
The result is seen as a reaction to Merkel's immigration policy with many CDU voters shifting towards the AfD to register their disapproval.
As of September 2016, the AfD had gained representation in 10 of the 16 German state parliaments.
Merkel, in power since 2005, has yet to confirm whether she will run for a fourth term in 2017.
You can share this story on social media: