4-meter tall manned robot learns to walk and move hands (VIDEO)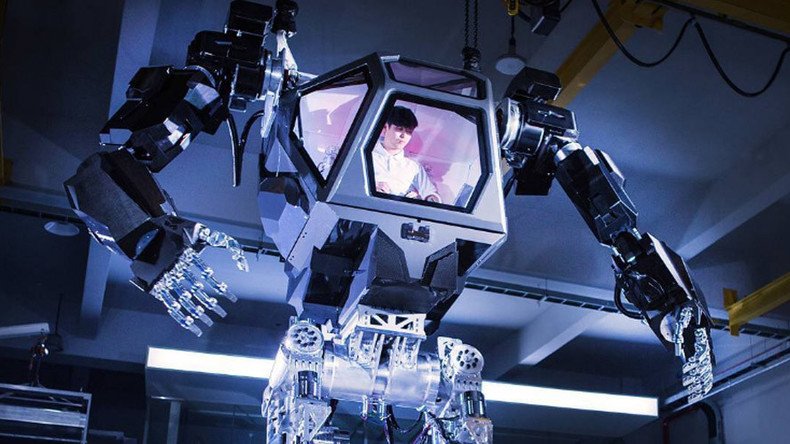 Video of a walking manned robot, undergoing work-in-progress motion tests in South Korea, has emerged online. The machine can be seen tested to move hands and take steps, repeating operator's actions.
The Seoul-based Korea Future Technology company has conducted walking tests for the 4 meter tall, 1.5 ton robot. The machine, resembling those appearing in the Avatar movie, is controlled by a pilot, sitting inside, and repeats his actions.
The video was posted on social media on Sunday by a 3D modelling designer Vitaly Bulgarov, who is involved in the project.
The large manned robot project dubbed "METHOD-1" is to serve for industrial purposes, but it is still unclear in what fields it can be used.
The videos show the machine repeating the moves of the operator inside raising its arms up and down.
Giant's steps were "shaking" the ground, according to Bulgarov.
Although the concept designer says he can't disclose much information about the project, he noted in a Facebook post that "from a mechanical/software/hardware/electric engineering stand point it was quite an ambitious project that required developing and enhancing a lot of technologies along the way."
Before joining the Korea Future Technology team, Vitaly Bulgarov has been an entertainment designer for a wide range of film studious, including Dreamworks, Blizzard Entertainment, LucasFilm's Industrial Light&Magic, Paramount Pictures, MGM, Skydance Productions. He took part in creation of Robocop (2014), Transformers 4, Terminator Genisys and a number of trailers for famous video games, such as Starcraft 2, World Of Warcraft and Diablo 3.
READ MORE: Robot takeover begins? Corporate giant Capita replaces staff with automatons

Back in 2012, Japanese company Kuratas presented quite a similar model, looking like an Iron Man costume. The robot uses V-Sido operating system allowing to operate and drive the vehicle from the cockpit. Compared to the South Korean robot, it doesn't have legs and moves on wheels, but is equipped with weapons.
Kuratas is sold on Amazon for more than $1 million.
You can share this story on social media: