'Plastic bag' Messi fan finally meets his soccer hero (VIDEOS, PHOTOS)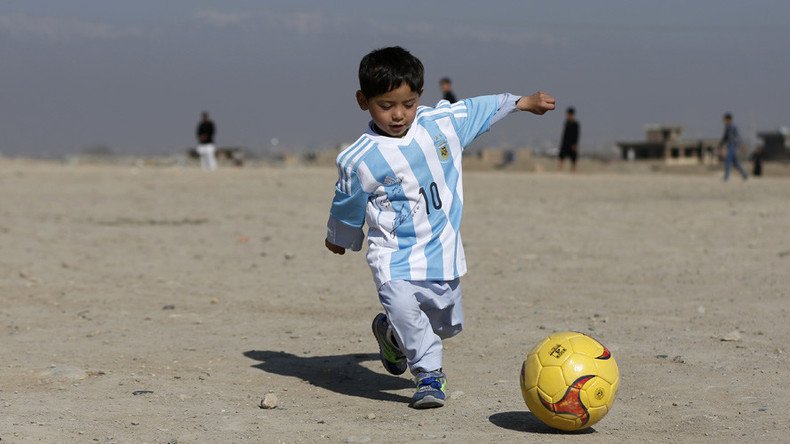 Remember the adorable Afghan boy who went viral after being pictured in his homemade Lionel Messi 'bag shirt'? Now, the six year old has finally met his footballer hero in Doha, Qatar.
Murtaza Ahmadi became an online sensation after a photo of him wearing a blue and white striped plastic bag with "Messi" written on the back – replicating the Argentina national jersey – was shared on social media around the world in January.
Though Messi sent a signed Argentina shirt to the boy earlier in the year, it was clear that a face-to-face meeting was what the child was hoping for. That dream has finally become reality.
The Barcelona superstar was in Doha for a friendly game between his team and Al Ahli and was seen reaching out for Ahmadi's hand as officials surrounding the two laughed and joked for the cameras.
Not camera shy, Ahmadi was picked up by Messi to pose for a photo with his idol. Qatar's official World Cup organizing committee tweeted a video of the moment, stating: "The six-year-old boy who dreamed of meeting his hero, Messi, finally comes true."
The Messi fan was interviewed by UNICEF in February after being presented with an autographed jersey from his hero.
"I love Messi and my shirt says Messi loves me," Ahmadi said.
Ahmadi and his family had to flee the eastern Ghazni province of Afghanistan to Pakistan in May after the family was allegedly threatened by local extremist groups who apparently thought the family received "lots of cash" following the boy's newfound fame.
READ MORE: Five-year-old Afghan Messi fan forced to flee homeland after threats
You can share this story on social media: