Crimea shipwreck could be fabled British battleship carrying military gold (VIDEO)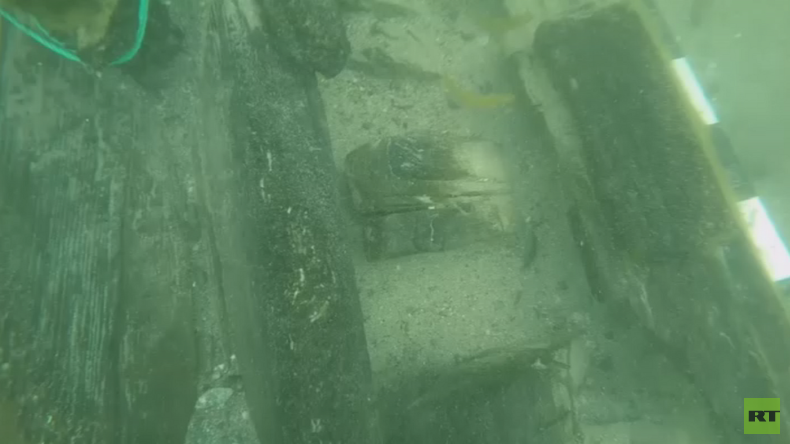 A shipwreck discovered at the bottom of the Black Sea could be a British naval vessel sunk during the Crimean War, more than 160 years ago, historians believe.
Archaeologists' work off the coast of the Crimean city of Yevpatoria has found that a "graveyard" of ships remains at the bottom of the Black Sea, reported Zvezda TV.
READ MORE: Centuries-old shipwreck discovered in Black Sea
At least three vessels identified in the area are believed to have been involved in the 19th century Crimean War, experts say, with the latest wreck fabled to have been carrying 30 barrels of gold.
An emblem on the ship suggests it was part of a British armada sent to do battle with Russian forces during the 1853-1856 armed conflict.
Footage of a dive near the vessel shows what appears to be the wooden remnants of the old battle ship, thought to have been named the Black Sea Prince, reported The Express, a UK newspaper.
Discovered less than a mile from the shore, the supposed Black Sea Prince rests near four other shipwrecks, which could be properly identified only after full excavation. Two of them are believed to be of French origin.
"We've been aware of the two ships from the five already during 2013 expedition. We assume they've sunken in a storm on 14 November 1854. We've discovered fragments of brass plating and uncovered a wooden smoking pipe dating back to the middle of the 19th century," Victor Vakhoneev, deputy director Black sea underwater research center, told the Komsomolskaya Pravda newspaper.
Joint British-French fleet has lost ten ships during the storm, according to historians.
Back in 2009, a centuries old craft loaded stone slabs was also found not far from the Crimean coast.
Dubbed the 'Grin's Brigantine', archaeologist Sergey Voronov, said the vessel was likely to have sank due to the "displacement of heavy stone sheets" in the cargo hold.