Thawed paws: Cat stuck in ice puddle rescued by Russian couple (VIDEO)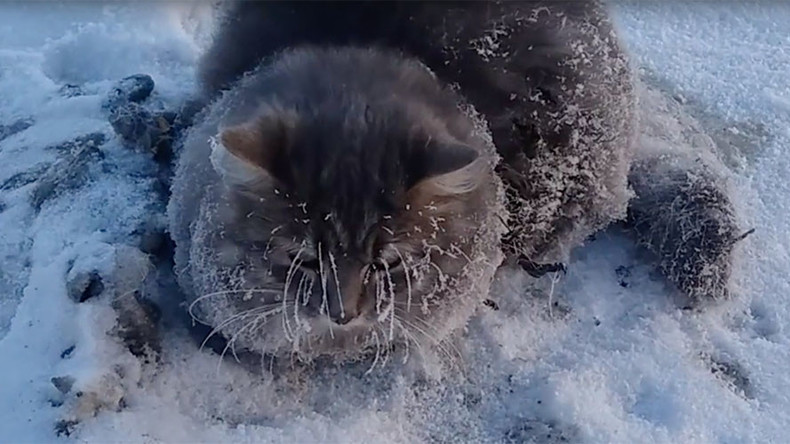 The internet is going wild for this in-house rescue operation: a couple found a fluffy cat stuck in ice, in -35°C weather. They used warm water to free the poor feline.
It took the woman several runs to finally pour enough warm water under the cat to melt the ice that kept it prisoner.
All the while, the man was filming and commenting on his improvised video blog, explaining how cold it was that morning in Zlatoust, near Chelyabinsk, in the Ural region.
Comments on social media suggested that the poor cat crawled under a parked car to warm up near its engine and fell asleep only to wake up, the car gone, with all four paws trapped in an icy puddle.
When the couple finally succeeded at freeing the cat, they wrapped it up in a blanket and took it home.
The author of the video updated concerned on-line viewers: "Called a vet. He gave it anti-inflammatory medicine. The cat is young – 7-9 months (according to the vet). By the evening he started to walk. In three days I posted an announcement in social media and a girl from our town picked him up. He's been living with her for a week now – everything's fine – he jumps – he runs."
People from all over the world were relieved to find out that the cat was safe, and praised the act of kindness that the Russian couple from Chelyabinsk performed, leaving positive feedback: "faith in humanity restored," "good job guys!" and "HARASZO, MALADCY. GREETINGS FROM POLAND. A STAKAN OF VODKA FOR U !!" being just some of the comments the YouTube video garnered.

Watch the full video:
A story with a happy ending! It is reminiscent of another one involving frozen animals, death, and drama:
READ MORE: Man finds 2 moose frozen mid-fight in Alaskan river (PHOTOS)