Shia Muslims shed blood in Mumbai to mark death of Mohammed's grandson (GRAPHIC VIDEO)
Published time: 22 Nov, 2016 12:31
Edited time: 22 Nov, 2016 13:42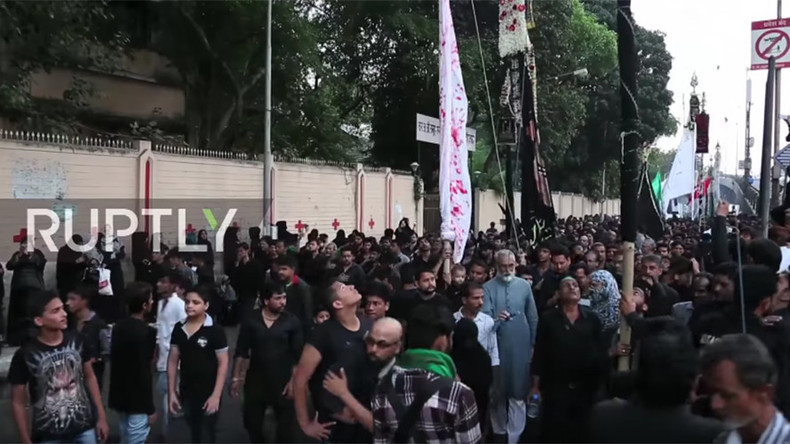 Thousands of Shia Muslims gathered in Mumbai to celebrate Arbaeen, also known as Chehlum in Hindi. Offering their sacrifice to the Prophet Mohammed's family, a small number of mourners hit themselves with sharp blades to shed blood.
Men could be seen covered in blood as they hit themselves in the head with knives and blades to mark the 40th day of mourning following the massacre of the Prophet Mohammed's grandson Imam Hussein in the desert of Karbala, Iraq, a date marked for the last 1,400 years.
A procession made its way through the streets of Mumbai, where traffic restrictions were put in place. The event was organized by All India IDAARA -E-Tahafuz- E-Husainiat.
While most Shia Muslims do not partake in this aspect of Chehlum, in Karbala, millions gather to commemorate the holiday in a very much less graphic way.
The world's largest annual gathering, with an estimated 30 million people attending this year, it will see millions gather in the streets to take part in the mourning rituals commemorating Imam Hussein, primarily through prayer and worship.
Hundreds of thousands even make the 80km pilgrimage on foot from Baghdad, with up to 1 million journeying on foot from Iran, taking approximately one month.
READ MORE: Walking Freedom: Iraq home of largest rally against terror in the world
Some 50 people were killed when Islamic State (IS, formerly ISIS/ISIL) attacked pilgrims in Baghdad marking Ashura, the start of Chehlum, earlier this month.
READ MORE: Over 50 killed, dozens wounded in 3 separate ISIS attacks in Iraq